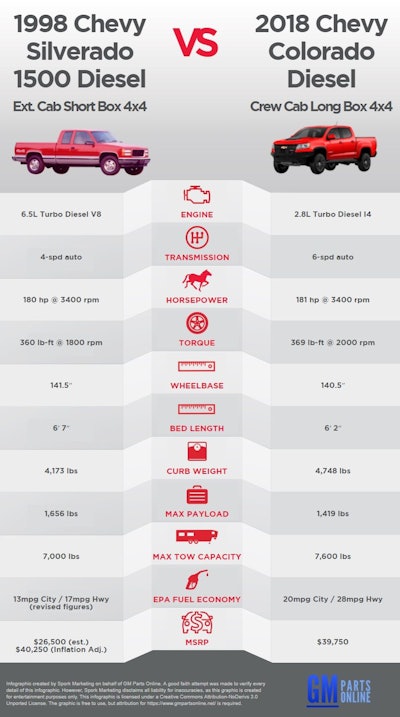 Despite a nearly 20 year age difference, there are a surprising number of similarities between a 2018 Chevy Colorado Diesel Crew Cab Long Box 4×4 and a 1998 Chevy Silverado 1500 Diesel Extended Cab Short Box 4×4.
The trucks have similar wheelbases and MSRPs, despite being produced 20 years apart. The 2018 Colorado's smaller diesel engine rivals the 6.5-liter Turbo Diesel V8 sold in 1998. In fact, the two have nearly the same horsepower.
"Sure, the 6.5-liter GM diesel engine was pre-Duramax, but it put out some decent power," says Angel Vigil, director at GMPartsOnline.net. "Considering the much smaller size of the 2018 truck's Duramax, we wondered how much difference there is between a 1998 Chevy turbo diesel and this new 2.8-liter turbo diesel."
Both trucks have enough power and torque for smaller tasks and trailers, and while the 2018 Colorado's I4 engine delivers slightly more power with 181 hp @3400 rpm than the 1998 V8's 180 hp @ 3400 rpm, the the two trucks have comparable torque.
Here are some other highlights from the comparison chart:
The wheelbase on the 1998 is 141.5 inches, only one inch greater than the 2018 Colorado at 140.5 inches.
Despite the Silverado being a short box model, its bed is 6 feet, 7 inches. The long box Colorado's bed is 5 inches shorter.
The 1998 short box truck has a 1656-pound maximum payload, while the newer long box has a maximum payload of 1419 pounds.
The new Chevy Colorado can tow 600 more pounds than the older Silverado.
The 2018 Colorado's curb weight is almost 600 pounds greater than the 1998 Silverado.
"Of course, the I4 Duramax is still new, and we can't help but wonder what kind of innovation will come next to push even smaller GM engines to the next level," Vigil adds.