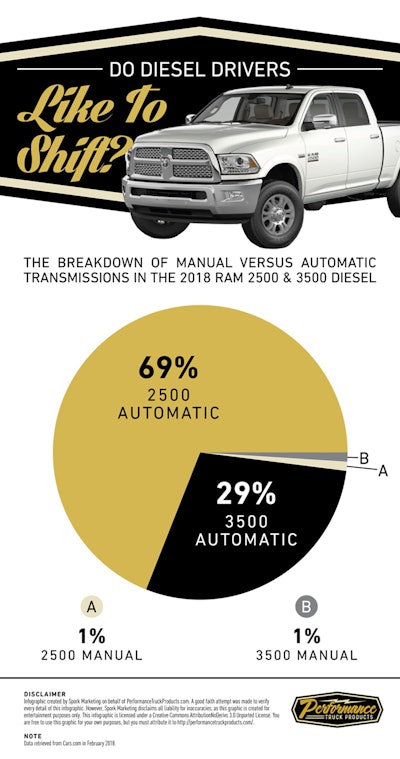 Manual transmissions are falling out of favor.
Ford doesn't even offer a manual transmission anymore and Ram, one of the last holdouts to keep them in their lineup, is seeing demand for a manual gearbox slump.
Using data collected from Cars.com, Performance Truck Products notes that only 281 of available 2018 RAM 2500 diesels have a manual six-speed transmission – 1 percent of the 13,466 trucks listed. Only 155 of the 2018 RAM 3500 diesel trucks currently listed had manual transmissions, leaving 5,740 automatic transmissions spec'd in the one-ton diesel trucks.
"Manual transmissions were the way to go on a Ram truck until the mid-2007 models," says Nate Dwyer, director at Performance Truck Products. "It was, at first, hard to accept that an automatic transmission pushed that Cummins to 650 pound-feet while the manual version was reduced to 610 pound-feet. Before, manual transmissions were always a first choice for towing and driving up and down hills."
That big 2007 change came when Dodge made the diesel particulate filter and other emissions equipment standard to meet tougher emissions requirements. The increased technology of the fuel-saving torque converters with the automatic transmissions resulted in the greater torque. Despite the reduced torque, the manual transmission Ram diesel trucks delivered the exact horsepower as the automatics until the 2013 model year.
The ongoing improvements to automatic transmissions offer more fuel efficiency than the manual transmissions. Both the 2018 Ram 2500 and 3500 trucks have the six-speed manual option with only the 6.7L Cummins Turbo Diesel I6, not with either Hemi.
There are two automatic transmission choices to complement these Ram HD trucks: the 68RFE six-speed automatic transmission and the heavy-duty AISIN automatic transmission. Choosing the AISIN means the truck handles maximum towing capacity while automatically changing six gears.
"I'm glad a few of the new Ram diesels have the manual transmission option," says Dwyer. "Some diesel drivers have been using a stick for years, customizing their powertrains, and getting the driving experience they want. However, the progress Ram is making with their automatic transmission technology is impressive, so I get it. Looks like everyone may have to get on board with automatics sometime soon."