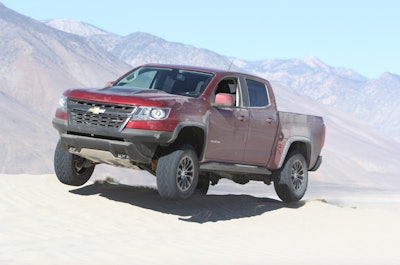 The Chevrolet Colorado ZR2 has been named Pickup Truck of the Year by Four Wheeler magazine.
This award was determined by a weeklong, invitation-only competition open to all-new or significantly revised pickup trucks for the upcoming model year. The testing encompassed more than 1,000 miles and a variety of terrain, including a racetrack, paved roads, sand, rocky trails, loose-surface trails, snow, loose-dirt hill climbs and water crossings.
The judges included editors of various TEN (The Enthusiast Network) publications such as Four Wheeler, 4-Wheel & Off-road and JP Magazine.
"Chevrolet has a proven track record of success developing performance variants for Corvette and Camaro," said Mark Dickens, executive director of Performance Vehicles, General Motors. "ZR2 takes this philosophy and applies it to Colorado, albeit in a way that makes sense for a truck, enabling customers to rock crawl, desert run and even drive comfortably on paved roads, all with equal degrees of confidence and fun."
Chevy reports that the ZR2 "is effectively a segment of one, combining the nimbleness and maneuverability of a midsize pickup with a host of new off-road features and the most off-road technology of any vehicle in its segment."
Compared to a standard Colorado, the ZR2 features a 3.5-inch wider track and a suspension lifted by 2 inches. Functional rocker protection has been added for better performance over rocks and obstacles, and the front and rear bumpers were modified for better off-road clearance.
Class-exclusive features include front and rear electronic locking differentials, an available diesel engine and the first off-road application of Multimatic Dynamic Suspensions Spool Valve (DSSV) damper technology.
"As a result, the Colorado ZR2 delivers exceptional performance in a variety of scenarios, from technical rock crawling to tight two-track trails to high-speed desert running to daily driving," Chevy reports.