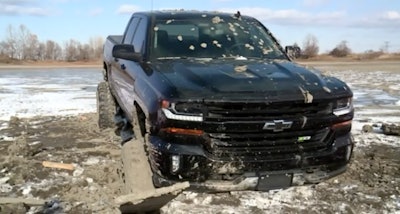 Getting stuck stinks. Even worse is having that embarrassing moment turned into a viral news story.
Such is life for the owner of a new Chevy Silverado who let his friend drive his truck onto a frozen lake bed recently near St. Louis. Not only did the truck get stuck, but so did the backhoe that tried to rescue it.
To make matters worse, the mud-humbled duo were four-wheeling on private property.
"This is the worst I've ever seen out here. Nobody's usually dumb enough to try to go out on the lake and he did," said Austin Opp of the Chain of Rocks Recreation Corp., a group that owns the lake and uses it for water skiing practice during warmer months.
Illegal four-wheeling has been a problem in Madison County for years, according to fox2now.com. Though vehicles have been impounded for it, they still keep coming to this spot just north of Interstate 270.
"We're more afraid the accident where a rollover and little kid gets killed or a girl is with her boyfriend. This is not a public place to go four-wheeling. With the lack of people out here in the winter, it's tough," Opp said.
It was especially tough for the owner of the truck, who sat helplessly in the passenger seat and yelled at his friend to turn around as he drove out onto the frozen lake which he had mistaken for a field. Once his friend did turn around, it was too late. The truck broke through the ice and sank into thick mud.
Yes, it could have been worse. Both the truck and the rented back hoe are dry for now, but they'll have to be moved before spring sets in and covers those mud holes with six feet of water.