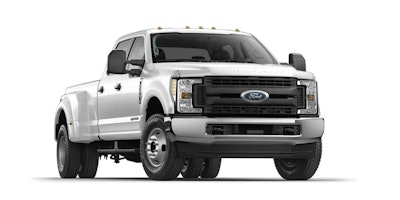 Ford pushed back today against a class action lawsuit alleging that the automaker knowingly installed emissions cheat devices in 2011-2017 Ford F-250 and F-350 Super Duty diesel pickups.
In its 273-page complaint filed today in U.S. district court in Michigan, the Hagens Berman lawfirm of Volkswagen 'Dieselgate' infamy also names Ford supplier Bosch as being complicit in altering emissions software that allegedly increased pollutants up to 50 times the legal limits.
Not so, says Ford.
"All Ford vehicles, including those with diesel engines, comply with all U.S. EPA and CARB emissions regulations," said Dawn McKenzie, product communications manager for Ford's North America trucks and commercial vehicles. "Ford vehicles do not have defeat devices. We will defend ourselves against these baseless claims."
The class action hits Ford and Bosch with a total 58 counts of violations of state consumer laws, false advertising laws, deceptive trade laws as well as violation of the Racketeer Influenced and Corrupt Organizations Act (RICO), adding that "Ford did not act alone," but colluded with Bosch in an organized scheme to evade emissions requirements.
"Our firm is the only law firm that has developed a system of independent research, including a team of dedicated scientists road-testing vehicles to uncover the next instance of emissions fraud that has blindsided consumers," said Steve Berman, managing partner of Hagens Berman.
"In certain common driving conditions, such as modest uphill road grades, or with the use of a trailer that adds weight, emissions exceed the standard by 30 to 50 times," the lawsuit states. "Ford advertised these vehicles as 'best in class towing capabilities' and expected Super Duty trucks to pull significant loads. Ford omitted to disclose that with 'best in class towing' came with a byproduct of high NOx emissions, sometimes exceeding legal standards by 30 to 50 times."
The suit says Ford also deceived consumers in calling its diesel Super Duty trucks "fuel efficient," and that without manipulating its software to turn off emissions controls, Ford could not have achieved the fuel economy it promises.
Neither the U.S. Environmental Protection Agency, the California Air Resources Board nor any other U.S. government entity has charged Ford with any wrongdoing concerning its diesel-equipped Super Duty trucks.
Hagens Berman is no stranger to diesel emissions lawsuits. The firm, which has over 70 attorneys in major cities throughout the U.S., brought emissions suits against Fiat Chrysler, Mercedes, General Motors and Volkswagen.