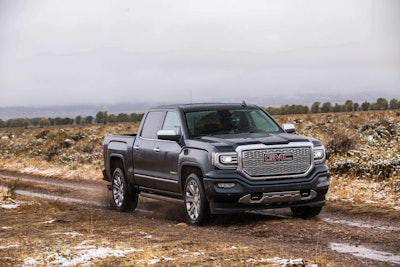 Did anyone see this coming?
In an attention-getting move that's one of the more memorable moments in the ongoing battle for pickup supremacy, GM sources revealed to the Wall Street Journal that the automaker will be offering carbon fiber pickup beds for its premium trucks within two years.
The new bed option is sure to attract plenty of attention and hopefully generate a new round of bed-testing videos. GM's last bed videos from 2016 went viral and demonstrated the superiority of its steel truck bed over an aluminum version offered by Ford.
But carbon fiber?! You need to watch a carbon fiber stress test video below to truly appreciate just how much stronger carbon fiber is over steel. The video, produced by BBC Engineering Connections, shows a steel drive shaft failing during a torque test at 1015 ft. lbs. while a carbon fiber shaft easily outlasts it until 3487 ft. lbs.
Okay, so while carbon fiber's impressive strength and light-weight are no secrets, the real mystery here is price for the upgrade in a GM pickup bed.
For example, a primed, steel replacement hood for a 2015 Ford F-150 XL currently sells for $158.56 at discountbodyparts.com. A carbon fiber hood made by Carbon Creations for the same truck sells for $1,344 at realtruck.com.
Of course these are just two quick comparisons and don't represent all prices for either material, but still, we're probably not talking a slight bump in price here for the latest, greatest bed.
However, those in the market for premium trucks usually don't dwell as much on price points and, if you think about it, having a carbon fiber bed is a premium bragging right that many will be more than happy to buy.
2018 GMC Sierra Denali 2500HD pictured above and below