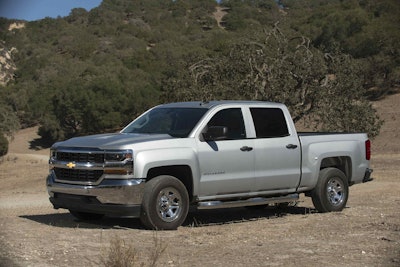 Ford has conducted its own F-150 bed puncture test, though Chevrolet pointed out that the test included a bed liner.
Last week, Chevy released two videos and data on puncture tests it conducted on 2016 Silverado and 2016 F-150 pickups. The beds of 12 F-150s ended up with 68 holes, while a dozen Silverado beds ended up with two. None of those trucks had bed liners.
Over the course of six days, Chevy's two truck bed challenge videos have gotten approximately 4.6 million views on YouTube. Ford's "Bed Meets Rock" F-150 video, released in 2014, had just under 80,000 views as of Monday afternoon. (The video has since been removed.)
In response to one of the stories "Hard Working Trucks" published on the bed challenge, a reader wrote that he wanted to know how Chevy would respond to Ford's "Bed Meets Rock" video.
The roughly four-minute long video shows an excavator loading the bed of an aluminum F-150 several times with masonry stone—100,000 pounds of the decorative rock over the course of a day. A stone mason drives the truck back and forth to his work site unloading the rock. It takes 51 loads to move the stones.
"Basically, everybody who works with a truck, the bed durability is probably the key factor that comes to mind," stone mason John Swanson says in the video.
Near the end of the video, Swanson says in reference to the F-150: "Note to my boss: let's get one of these."
In comparing the bed challenges, Ford Truck Communication Manager Mike Levine said: "The F-150 rock test video is a great example of a real world customer using F-150 the way real customers do, instead of in a stunt setting."
HWT contacted Chevy for comment on the video.
"I note that the truck had a bed liner (disclosure was superimposed by Ford on the video)," Jim Cain, Chevrolet's senior communications manager said.
"Our test was a test of the beds as they are shipped from the factory—no bed liners."
Levine said the spray-in bed liner seen in the video would be a typical addition for someone working with rock.
"Most customers who would use their truck this way would add a spray-in or drop-in liner to protect the box," Levine said. "If they didn't add a liner, a steel box would be at risk of red rust if the paint and corrosion coating were scraped off."
Cain said unlike Ford's bed test, which was carried out on one pickup, Chevy used several trucks along with three different types of puncture tests.
"A benefit of our testing is one, the original field evaluations were conducted by engineers using long-standing Chevrolet durability test methods; two, multiple runs were conducted of each laboratory and field testing used for advertising; and three, we reported our methodology and results for each test and vehicle," Cain said.