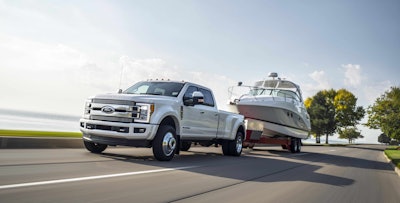 For the 2018 model year, Ford's 6.7-liter Power Stroke diesel engine will get a class-leading power boost.
Todd Eckert, Ford truck group marketing manager, says redesigned cylinder heads that offer added strength under higher loads and optimized fuel and turbo boost calibrations that take advantage of the increased cylinder head capacity add 10 horsepower and 10 more lb.-ft. of torque.
The 6.7-liter Power Stroke for the coming model year will feature 450 horsepower and 935 lb.-ft. of torque, each best-in-class.
Also for 2018, the Super Duty lineup will feature for the first time a F-450 in a 4X2 dual-rear-wheel configuration available to both fleet and retail users, "enabling our customers to get more done with the segment's best payload and towing," Eckert says.
The F-450 offers a best-in-class 34,000 pounds of gooseneck towing when properly equipped – a 1,500-pound improvement for the new F-450 4×2 model; best-in-class 21,000-pound conventional hitch towing; and best-in-class 7,360-pound payload capacity.
The 2018 F-450 features a high-strength steel box frame, integrated gooseneck hitch mounts, and added load capacity along with Ford's proprietary high-strength, military-grade, aluminum-alloy body. It will be available this winter in XL, XLT, Lariat and Platinum series.
A base MSRP of $52,830 includes a $1,295 destination and delivery charge.