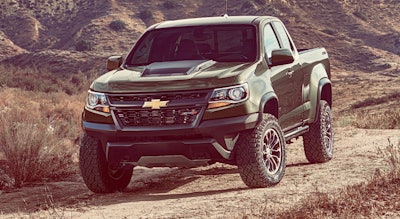 The Chevy Colorado ZR2 has been chosen as a finalist for the 2018 North American Truck of the Year.
Chevy's popular midsize pickup shares the nomination with two other entrants that, while not pickups, share a lot of the same attributes: the Ford Expedition and the Lincoln Navigator.
"The 2018 finalists reflect the incredible variety of vehicles and new, advanced technology automakers are adding to their offerings as well as the increasing emphasis on making the most advanced safety features available to consumers even on affordable models," said Mark Phelan, president of the North American Car, Utility and Truck of the Year.
Votes from nearly 60 jurors were tallied confidentially by Deloitte LLP and remained sealed until they were announced at the LA Auto Show by the organization's officers, including Vice-president Matt DeLorenzoand Secretary-Treasurer Lauren Fix.
Chosen from dozens of new vehicles, jurors' evaluated the finalists based segment leadership, innovation, design, safety, handling, driver satisfaction and value for the dollar. The process started in June 2017 by determining vehicle eligibility and includes three rounds of voting.
"We continue to get exceptional contenders each year, and this year is no different. The task of selecting these nine finalists – especially in the car and ultra-competitive utility category – was extremely difficult," Fix said. "And while there may be some favorites among the finalists any of these vehicles could end up walking away with the trophy in their category when we announce winners in Detroit in January."
Winners of the NACTOY award will be announced at the North American International Auto Show (NAIAS) in Detroit on January 15, 2018.
Now in their 24th year, the awards are unique because — instead of being given by a single publication, website, radio or television station — they are selected by a jury of automotive journalists from the United States and Canada. Bridgestone Americas, Inc. is the presenting sponsor of NACTOY.
For more about NACTOY and its history: https://northamericancaroftheyear.org/