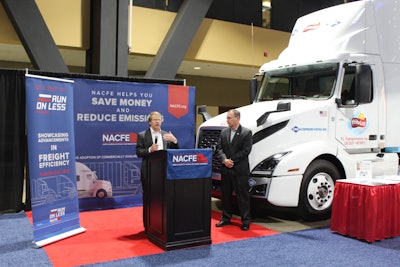 The North American Council for Freight Efficiency (NACFE) has picked 10 fleets for its Run on Less Regional, a freight efficiency campaign showcasing trucks operating in a variety of regional haul applications.
Chosen were C&S Wholesale Grocers, Hammond, La.; Hirschbach, Monterey, Tenn.; Hogan Transportation, St. Louis, Mo.; J.B. Hunt, Corsicana, Texas; Meijer, Lansing, Mich.; PepsiCo's snacks and beverages division, Vancouver, Wash.; Ploger Transportation, Norwalk, Ohio; Schneider, Rockford, Ill.; Southeastern Freight Lines, Columbia, S.C. and UPS, Phoenix, Ariz..
This year's event is a sequel of sorts to a similar challenge held two years ago. NACFE's then-cross-country long-haul fuel efficiency demonstration achieved a cumulative average of 10.1 mpgduring 99 days of driving, exceeding the original 9 mpg goal set by project hosts Carbon War Room and NACFE.
Seven participating trucks drove a combined 50,107 miles during the 17 day event. Each participating truck used commercially available technologies including 6×2 axles, trailer and tractor aerodynamics, engine accessories, tire pressure systems, automated transmissions and low viscosity oils.
"We're proud to announce these best-of-the-best fleets to demonstrate how efficiently they move the goods that we as consumers need and use," says NACFE Executive Director Mike Roeth. "The routes these fleets will run represent a variety of operations but have one thing in common: they all operate within a 300 mile radius of their home base."
Regional operations mean drivers are likely to get home on a more regular basis, which can be an important recruitment tool, Roeth says. "In addition, regional operations are fertile ground for alternate fueled vehicles because it is easier for fueling infrastructure to be installed for vehicles that use an energy source other than diesel fuel."
J.B. Hunt Executive Vice President and Chief Operations Officer Craig Harper says the growth of e-commerce has allowed the company to provide drivers with more regional route opportunities, which leads to more home time. Through the regional run, he hopes the carrier "can learn how to make these routes more efficient and beneficial for our drivers, J.B. Hunt, and the customers we support."
Run on Less Regional is a three-week event kicking off on Oct. 8 and culminating at a press event at the North American Commercial Vehicle show in Atlanta on Oct. 27. Like its predecessor Run on Less 2017, Run on Less Regional will feature real time monitoring of a number of factors including miles traveled, fuel consumed, pickups and deliveries, elevation change and vehicle speed among others.
"Despite the shortened length of haul and operating in congested areas with more freight pickup and deliveries, fleets in regional operation strive to operate as efficiently as possible," says Ploger Transportation President Tanya Morrow. "Run on Less Regional will give us the opportunity to showcase the technologies and practices that allow us to deliver goods in a time sensitive manner and get our drivers home on a regular basis."
Shell Lubricants is the title sponsor for the event. PepsiCo, Geotab, EPA SmartWay, LinkeDrive, and the Department of Energy's National Renewable Energy Laboratory and Oak Ridge National Laboratory have also signed on as event sponsors.