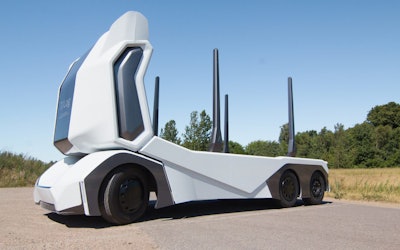 Michelin announced that it has partnered with autonomous tech upstart Einride.
Pierre Martin Heut, Michelin's director of supply chain & logistics, says the tire maker plans to deploy Einride's autonomous-enabled, cab-less electric truck next year in a fenced area at its tire production facilities in Clermont-Ferrand, France before heading out on public roads pending government approval. Heut announced the partnership at Michelin's annual global green mobility Movin'On Summit in Montreal.
Einride's T-pod is capable of SAE Level 4 autonomous driving via a Nvidia Drive hardware and software platform.
Einride Chief Operations Officer Niklas Reinedhal says the truck was designed to haul up to 16 metric tons upwards of 125 miles at speeds of more than 50 miles per hour.
Last month, Einride put its autonomous T-pod on a public road at logistics firm DB Schenker DB Schenker's facility in Jönköping, Sweden. The T-pod is now used to transport goods between a warehouse and terminal at the facility.
The Swedish Transport Agency in March ruled the T-pod able to operate in accordance with Swedish traffic regulations and days later approved Einride's application to expand the pilot to a public road. The permit applies to a public road within an industrial area – between a warehouse and a terminal and is valid through 2020.
Einride and DB Schenker entered into a commercial agreement in April 2018 that includes the pilot in Jönköping and an option for additional pilots internationally.