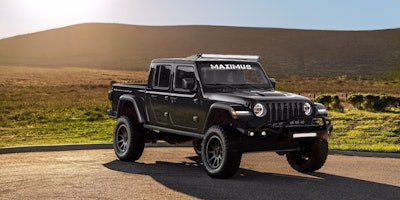 What'll get more attention than Jeep's new 2020 Gladiator pickup?
A 1,000-hp Gladiator courtesy of Hennessey Performance.
The Hennessey Maximus 1000 is powered by Dodge's supercharged 6.2-liter Hellcat V8 that Hennessey has cranked up to 1,000 horses and 933 lb.-ft. of torque. Yeah, that'll turn some heads at Moab, Glamis, the Jeep Jamboree, your local drag strip, your kid's school and just about anywhere else.
"Our clients want exclusive, extreme vehicles that deliver a fun and exciting driving experience both on and off-road," said Hennessey Performance founder and CEO John Hennessey. "Win the crowd and you'll win your freedom was the advice that the elder gladiator gave to Russell Crow in the Gladiator movie. We could not agree more!"
Production is limited to just 24 units. Production will begin in July and build time for each vehicle will be approximately four months. The company plans to build two units per month.
Priced at $200,000, the 2020 Hennessey Maximus 1000 includes:
New 2020 Jeep Gladiator Truck
2L Supercharged Hellcat V8 Engine
8-speed Automatic Transmission
HPE1000 Engine upgrade with 1000 HP & 933 lb-ft of Torque
ECU, Wiring Harnesses, Radiator, Fuel System
Stainless Steel Exhaust System
MAXIMUS Front & Rear Bumpers
LED Lights
Hennessey 20-inch Wheels
BFG 20-inch KD Off-Road Tires
Upgraded Suspension System with 6-inch Lift
Custom Interior Leather Upgrade with Hennessey & MAXIMUS Embroidered Seats
3 Year / 36,000 Mile Warranty