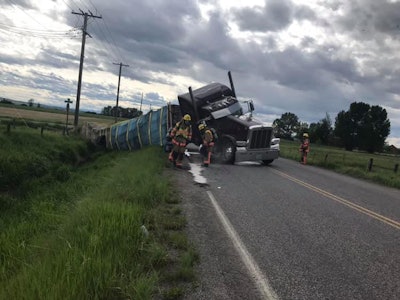 The news in Montana was all abuzz with a story about a tractor-trailer crashing with 40,000 pounds of bees on Monday.
Thankfully the two men inside the Peterbilt were not injured, though we can't say much for the bees nor first responders who were called to the rural crash site on a two-lane road near Bozeman.
About one pound of bees, or the equivalent of 1,000 to 3,000 of the stinger-equipped honey makers, escaped from the tipped rig which was heading from California to North Dakota. Judging by the picture below, sound cargo securement practices helped minimize the loss. No cause for the accident was reported.
After the truck was set back up and inspected it continued on its journey but left behind plenty of memories for first responders who had never before dealt with so many hostile victims.
"We just took the best precautions we could as far as safety for our guys," Hyalite Assistant Fire Chief Brian Nickolay told kbzk.com. "We went really in our full structure fire gear, including our self-contained breathing apparatus packs so kind of minimize and reduce the risk of being stung at that point to our guys."
Truck bound for North Dakota carrying 40,000 lbs of bees crashes on Durston Rd near Gooch Hill Rd in #Bozeman. Road is closed temporarily. Two in truck were NOT hurt. @KBZK pic.twitter.com/VU83F1hJcs

— Cody Boyer (@NewsManBoyer) June 11, 2019
As of 10:30, Durston Rd is open again following this incident. @KBZKhttps://t.co/GPoloGYBLh

— Cody Boyer (@NewsManBoyer) June 11, 2019