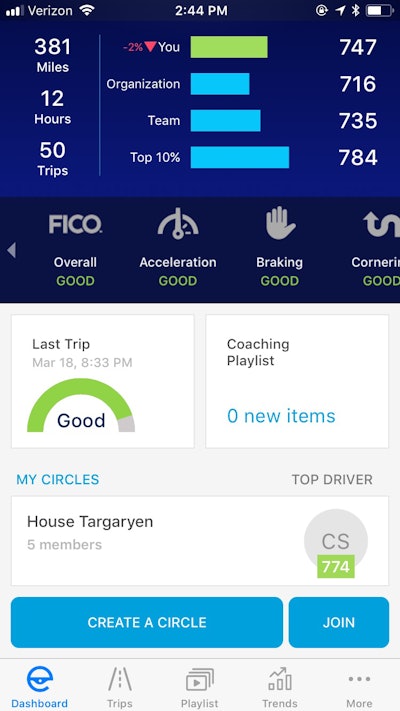 eDriving and Munich Reinsurance America, Inc. (Munich Re) are offering companies with commercial fleets a driver risk reduction program.
eDriving warranties organizations will reduce the number of collisions by at least 20 percent in the first program year or the program fees will be refunded. The risk reduction program includes eDriving's Mentor program and Munich Re's Smart Mobility program.
"Munich Re is helping establish new ways for fleets, brokers and insurers to explore how state-of-the-art technology-based risk management solutions can help save lives, and reduce risk and liability exposures," said Ed Dubens, eDriving chief executive officer and founder. "Our new warranty offers clients and partners confidence that they will successfully reduce their fleet risk. We've spent more than 20 years refining our approach with some of the world's largest fleets, and their sustained year-over-year collision performance is what gives us the conviction to offer this warranty."
The new smartphone-based telematics program, Mentor by eDriving, leverages the company's patented approach that combines a client's collision, motor vehicle report (MVR), and telematicsdata with behavioral science and interactive micro-training to help identify and remediate risky drivers and behaviors. Mentor's approach delivers via smartphone an application that:
Captures harsh acceleration, braking, cornering, speeding and cellphone distractions;
Performs proprietary predictive analytics fueling the FICO Safe Driving Score, after every trip and over time;
Coaches drivers to safer driving through vivid personal insights, an in-app coaching playlist of short, engaging micro training (courses) tailored to each driver's progress; and
Provides weekly dashboards and scorecards to drivers and managers to monitor driver progress, focusing their attention and targeted interventions on the riskiest drivers in any given week or month.
Included in this Mentor warranty package is Munich Re's LossDetect, an automated text-mining tool that analyzes automotive claims data and recommends potential solutions to further assist in reducing auto collisions.
"eDriving has proven its leadership in reducing severity and frequency of fleet crashes, and we are pleased to work with eDriving to bring its warranty to commercial fleets," said Mike Scrudato, senior vice president of Strategic Innovation, Munich Re.
Written by Aaron Huff, senior editor of Commercial Carrier Journal, a partner publication of Hard Working Trucks.