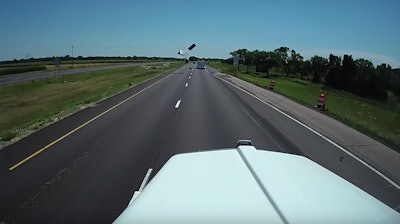 Independent owner-operator Howard Salmon was rolling along, having just come "out of a work zone," he says, when he noticed a slow pickup ahead pulling a small box trailer.
"I was starting to gain speed and thinking about getting into the left lane," he says, when an apparently unsecured portable building or something else in the bed of the pickup took flight.
"It flew right out of the back of this pickup," he says, where "it just disintegrated" in mid-air and then all over the roadway in front of him.
See how he pulled through it in the video below. The action starts about 33 seconds in.
This story originally appeared in HWT's partner publication, Overdrive.