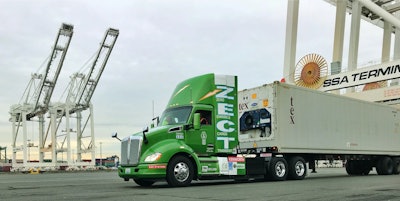 The State of California recently announced that it was awarding the Port of Los Angeles $41 million through its Zero-Emission and Near Zero-Emission Freight Facilities (ZANZEFF) project.
However, despite including 'near-zero emission' in its project title, the state has not yet committed to funding near-zero emission trucks, such as those powered by the latest natural gas engine technology. And such funding may never come as the California Air Resources Board made clear in its 2017-2018 Grant Solicitation for the ZANZEFF project.
"Use of Low NOx engines will be eligible for funding where fully zero-emission or zero-emission enabling technologies are not commercially available," CARB writes in its grant solicitation.
Currently, ZANZEFF funding has been allocated for ten new zero-emissions hydrogen fuel-cell-electric Kenworth T680 Class 8 trucks "that will be developed through a collaboration between Kenworth and Toyota to move cargo from the Los Angeles ports throughout the Los Angeles basin, as well as ultimately to inland locations such as Riverside County, the Port of Hueneme and eventually to Merced," a CARB press release reports.
According to CARB the initiative will help reduce emissions by 465 metric tons of greenhouse gas and 0.72 weighted tons of NOx, ROG (reactive organic gas) and PM10.
What's not clear is the amount of methane that will be reduced as a result of the ZANZEFF initiative. CARB regards methane as a potent greenhouse gas, so much so that it awarded its lowest carbon intensity (CI) score ever to a company that generates renewable natural gas from animal waste containing methane.
Amp Americas' renewable natural gas received a CI score of -254.94 because it's capturing methane from its dairy farm that otherwise would have entered the atmosphere. That methane is then processed into fuel-ready renewable natural gas (also known as bio CNG) which can used in place of or in combination with natural gas.
No other fuel rated by CARB (see table below) comes close to Amp Americas CI score of -255. Hydrogen's score, depending on its source, ranges from slightly below zero to around 70.
Hard Working Trucks reached out to Amp Americas CEO Grant Zimmerman for feedback on the state's decision to currently fund only fuel-cell trucks under the ZANZEFF program.
"We are strong advocates for broader adoption of near-zero and zero-emission freight transportation solutions. Reducing carbon emissions and harmful smog-causing pollutants in the heavy-duty trucking sector is indispensable as part of an overall air and climate strategy in California," Zimmerman states in a written response.
"Near-zero RNG-fueled trucking achieves nearly all of the air quality improvement of zero tailpipe emissions technology, and can achieve as much or more climate impact at lower cost than battery electric and fuel cells," Zimmerman continues. "In fact, we are already delivering 100 percent renewable natural gas with the lowest carbon intensity score ever awarded (at -254 vs. +35 for grid powered electric vehicles) by CARB to fleet customers in California. The state needs all available technologies and fuel sources to achieve its goals. We are supportive of all efforts to make a lasting impact on our greenhouse gas reduction goals."
Hard Working Trucks also contacted CARB for clarification on CI scores.
"CI is the measure utilized for the Low Carbon Fuel Standard—there is no other emissions value," CARB spokesperson David Clegern said. "The program does not pick winners and losers; it simply supplies the CI information and producers do with it what they think works best for them."
In addition to funding hydrogen fuel cell trucks, ZANZEFF grants will also provide for two new large capacity heavy-duty hydrogen fueling stations developed by Shell in Wilmington and Ontario, Calif. The new stations will join three additional stations located at Toyota facilities around Los Angeles to form an integrated, five-station heavy-duty hydrogen fueling network.