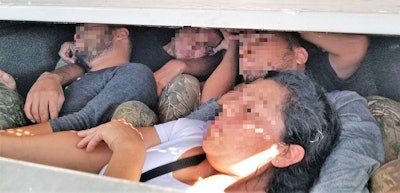 Tucson Station Border Patrol agents arrested a 25-year-old Tucson man for attempting to smuggle 11 illegal aliens inside the locked bed of his Ford F-250.
A Border Patrol K-9 had alerted to the truck shortly after it was pulled over on State Route 86 Thursday afternoon.
After the driver said he couldn't open the locked utility bed, agents pried it open and found 11 illegal immigrants hiding inside (see Border Patrol photo above).
Agents reported that the individuals were laying on top of each other with no water, air conditioning or means of escape. All were showing signs of heat illness, prompting agents to request emergency medical services.
The individuals were administered first aid and provided fluids, but no advanced medical care was necessary. The driver of the vehicle was arrested and faces charges of alien smuggling.
Suspicious activity can be reported to the Border Patrol anonymously by calling 1-877-872-7435. Reporting illicit activity could save someone's life.