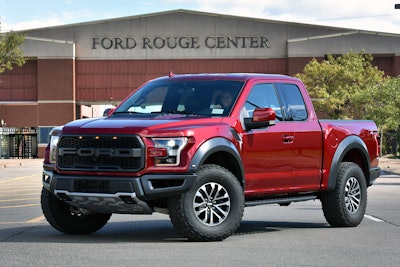 Though Ford hasn't revealed much about its upcoming F-150 Hybrid, company executive chairman Bill Ford did report that the truck would be built at the Rouge truck plant in Dearborn, Mich., and he also hinted at a fully electric pickup.
While the model year 2020 F-150 hybrid will not offer PHEV (plug-in hybrid) capability it will come up with exportable power. (No word yet if those plugs will be strictly 110-volt, though it seems unlikely that 220 would not be included).
"I am excited to confirm that the revolutionary 2020 Ford F-150 Hybrid will be built right here," Ford said during an event on Thursday celebrating the 100-year anniversary of the company's Rouge complex. "It's going to be a truck that takes you farther without sacrificing power and a truck that helps you do more when you get there, with electricity for everything from your tools to your camping gear."
Though he didn't drop any dates, Ford made it clear that his company has plans for the growing EV truck space.
"When it comes to building the best trucks in the world, we never rest. Whether they're gas, diesel, hybrid – or when the time comes, fully electric – we will ensure they power the world in a sustainable way and remain Built Ford Tough," he said.
During the plant's three-crew shift cadence, a new F-150 rolls off the end of the assembly line every 53 seconds. In 2020, the plant begins producing the first F-150 Hybrid, according to Ford's press release.
With the switch to aluminum for F-150 bodies in 2014, the plant added a patented aluminum recycling system. This closed-loop system, with two miles of duct work and computer-controlled gates, has helped Ford recycle 12 to 15 million pounds of aluminum a month at the Rouge. That's enough to build more than 37,000 F-series truck bodies a month, equaling 144 million to 180 million pounds of aluminum per year.
The plant, which recently reached zero-waste-to-landfill status, is also part of the company's broader water reduction strategy. Ford's long-term goal is to use zero potable (drinking) water in its manufacturing processes.
10 Things You Probably Didn't Know About Ford's Rouge Complex
The first item produced at the Rouge was not a car, but a World War I submarine chaser named an Eagle Boat on July 11, 1918. But the boat never saw combat.
The first vehicle produced at the Rouge was a Fordson Tractor, which came off the line on February 21, 1921.
The first automobile produced from start to finish at Rouge was the Model A, which was produced on October 27, 1927.
Including all of Ford's factories, the company in 1927 employed more than 3,000 people with disabilities including more than 1,200 sight impaired at the Rouge.
At the height of employment in 1929, more than 102,000 people worked at the Rouge. If it were a city, the Rouge would have been the fourth largest in Michigan that year, trailing only Detroit, Grand Rapids and Flint.
In 1932, the world's first single block V-8 engine began mass production at the Rouge. (Before that, all V-8s by Ford and other automakers had been two V-4 blocks that were combined. With this novel engine, a single block had the eight cylinder holes bored at the same time.)
By 1964, the power plant at the Rouge would have provided enough power for a city of 1 million.
More than 130 miles of railroad track were used at Rouge by 1970, making it the largest privately owned railroad in the U.S.
More than 10 million people have toured the Rouge since it opened 100 years ago. The guest list includes countless celebrities and political officials, including President Bill Clinton in 2004, Vice President Herbert Humphry in 1968 and singer, actor and comedian Jimmy Durante in 1969.
The Rouge was added to the National Register of Historic Places on June 2, 1978.