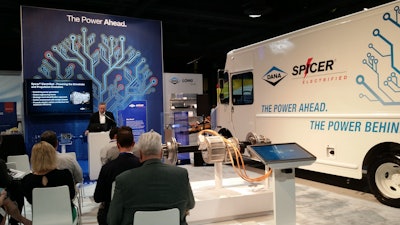 Dana is calling its new Spicer Electrified integrated e-Drive axle one of the greatest innovations in the company's 114-year history.
The e-Drive axle, which is on display this week at ACT Expo in Long Beach, Calif., houses an electric motor which when compared to a conventional EV powertrain design, sheds hundreds of pounds and delivers impressive gains in power efficiency.
Dana worked with commercial EV manufacturer Workhorse to pair up the new axle with one of its step-side delivery vans. Both companies talked to reporters about the e-Drive axle during a press conference today.
"This is one of the most exciting innovations in the marketplace since Dana developed the encased U-joint here to my left that essentially obsoleted the chain drive in automotive applications," said Steve Slesinski, Dana's director of product planning.
"This axle happens to also be 220 kilowatt of peak power as well as 770 newton meters of torque (568 foot pounds)," Slesinski continued. "It's also a 400-volt system. Configured together with the specifications developed by Workhorse, this axle can propel the vehicle at 67 miles an hour on the highway. We were also able to incorporate serious weight savings with this axle design."
The e-Drive axle shaves off 388 pounds when compared to a conventional EV drive system. Since the motor is incorporated directly into the axle, the system is much more efficient.
"By putting a motor directly on the axle, we eliminated a transmission, gear reduction, and a lot of those losses," explained Workhorse President Duane Hughes. "So, as compared to a motor today that has a driveline, this is probably at least 14 percent more efficient, just by putting that motor in the position of the axle."
Due to the integrated design, the e-Drive axle also offers optimized packaging with more chassis space to position batteries inside the frame rails and accommodate features such as side steps that are common with medium- and heavy-duty vehicles.
The permanently sealed axle is designed to last 25 years with no maintenance requirements.
Slesinski said the axle can be put into production soon. The Workhorse van on display at the Dana booth is a concept model that has not yet entered production.