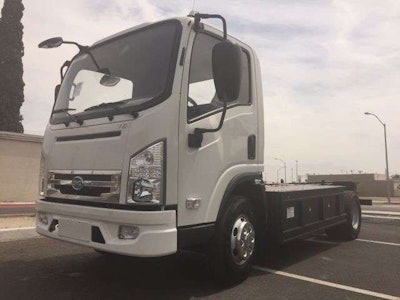 BYD, the largest electric vehicle manufacturer in the world, announced today at ACT Expo in Long Beach, Calif. that it will be opening a battery recycling facility in Shanghai in June.
BYD joins Tesla, which plans on recycling its EV batteries at its Gigabit factory in Sparks, Nevada.
The announcement came during this morning's Battery Technology Workshop where panel experts discussed end-of-life uses for spent EV batteries, a topic that has proven controversial given the toxic elements found in high energy density batteries.
George Miller, electric truck senior sales manager for national fleets at BYD, told a packed audience that though he could not reveal much about the new recycling factory, he could say that it will offer capacity for 10 gigawatt hours of lithium iron phosphate batteries.
"On the recycling side, the real thing that's driving recycling right now is cobalt," Miller said. "Cobalt, in the last few years, has skyrocketed in price causing people to be really interested in the recycling of this product.
"Unfortunately, I'm sad to report that it's not a very efficient process," Miller continued. "Right now, they're smelting these batteries and they're getting out anywhere from 40 to 60 percent of the cobalt and the rest results in slag—a highly toxic output that is not very usable."
Still, Miller explained that the value of cobalt is paying for the recycling process and that improvements in recycling methods continue to develop.
"These efforts are growing rapidly," he said. "It is economic to grow this."
Aside from recycling, BYD is also exploring the option of repurposing used EV batteries for stationary energy storage. It's an idea that's caught on with the City of Park City, Utah.
Blake Fonnesbeck, Park City transit and public works director, explained that the city is leasing its batteries for its electric buses. The four-year lease not only locks in a price for replacement batteries, it also offers the city the chance to put its used batteries to work to meet a variety of power needs, including charging up its busses and providing emergency power. The city's solar energy system will help provide a trickle charge to the batteries.
"Most of our city buildings have large solar arrays on top of them, so we thought how could we tie those two things together especially with our city council's goal of net zero and having these battery packs in a second-life stationary storage seem to fit well," Fonnesbeck said from the panel.
Park City's diesel generators will eventually be replaced by batteries that were once used in the city's busses. Fonnesbeck said that those stationary storage batteries will be at about 70 percent of their original storage capacity.
Discussions about used EV batteries prompted panelists to consider whether OEMs should be held responsible for the entire lifecycle of the batteries installed in their EVs and whether financial incentives could be tied to battery repurposing.
Ethan Elkind, director of the climate program for the Center for Law, Energy & Environment at U.C. Berkeley and UCLA Schools of Law, reminded the audience that energy storage is state policy.
"In California, we have the first energy storage mandate in the country passed in 2010 and sponsored by then Attorney General Jerry Brown, now governor," Elkind said. "And the mandate that the public utilities commission here eventually came up with was a little over 1.3 gigawatts of energy storage by 2020."
Elkind also called for additional pilot programs to better gauge the efficacy of battery repurposing.
Government regulation is a necessary component of end-of-life EV battery solutions, according to BYD, particularly as it applies to recycling.
"I think it needs to be an industry-wide approach in which we're getting the environmental regulatory agencies involved in trying to accelerate the scalability, the improvement of our recycling technologies so that we can find a solution in the next year, two years, three years that is scalable because it is a real problem that we're facing on the higher power density cobalt related materials and it's causing some environmental issues down the chain," Miller said.