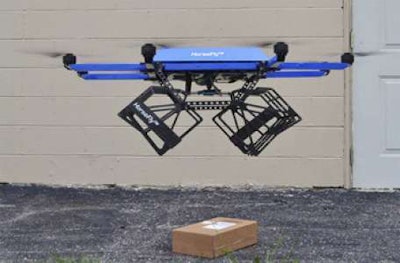 Workhorse Group announced recently that the United States Patent and Trademark Office (USPTO) issued a patent for its HorseFly Truck Launched Drone Package Delivery System.
The HorseFly UAV Delivery System is a custom-built UAV that is fully integrated with the Workhorse line of electric/hybrid delivery trucks.
The HorseFly system conforms to FAA guidelines for UAV operation in the U.S. Most notably, being fully integrated with delivery trucks, the system is designed so that a driver or driver's assistant can maintain line-of-sight operation of the UAV delivery process.
"We feel that the patented HorseFly truck launched drone package delivery system is the first major change to the last mile delivery process since the invention of the package delivery truck. Drivers appreciate the fact that the HorseFly system is fast, reliable, and efficient," said Steve Burns, Workhorse CEO. "Last mile package delivery is changing, and the HorseFly delivery system is leading the way."
Designed to assist the delivery driver, the HorseFly drone delivery system is designed to help reduce driving time and allow faster deliveries.
The patented HorseFly truck-launched drone delivery system works as follows: 1) the truck delivery driver loads the package and launches the HorseFly drone, 2) the HorseFly drone autonomously launches from the rood of the delivery truck, proceeding to the delivery location, 3) at the delivery location the drone automatically descends and delivers the package, and 4) the HorseFly drone returns to the delivery truck at a planned stop and autonomously redocks and recharges for its next delivery.
"We feel that package delivery by drone is here," continued Burns. "Soon your package may come to your home by HorseFly!"