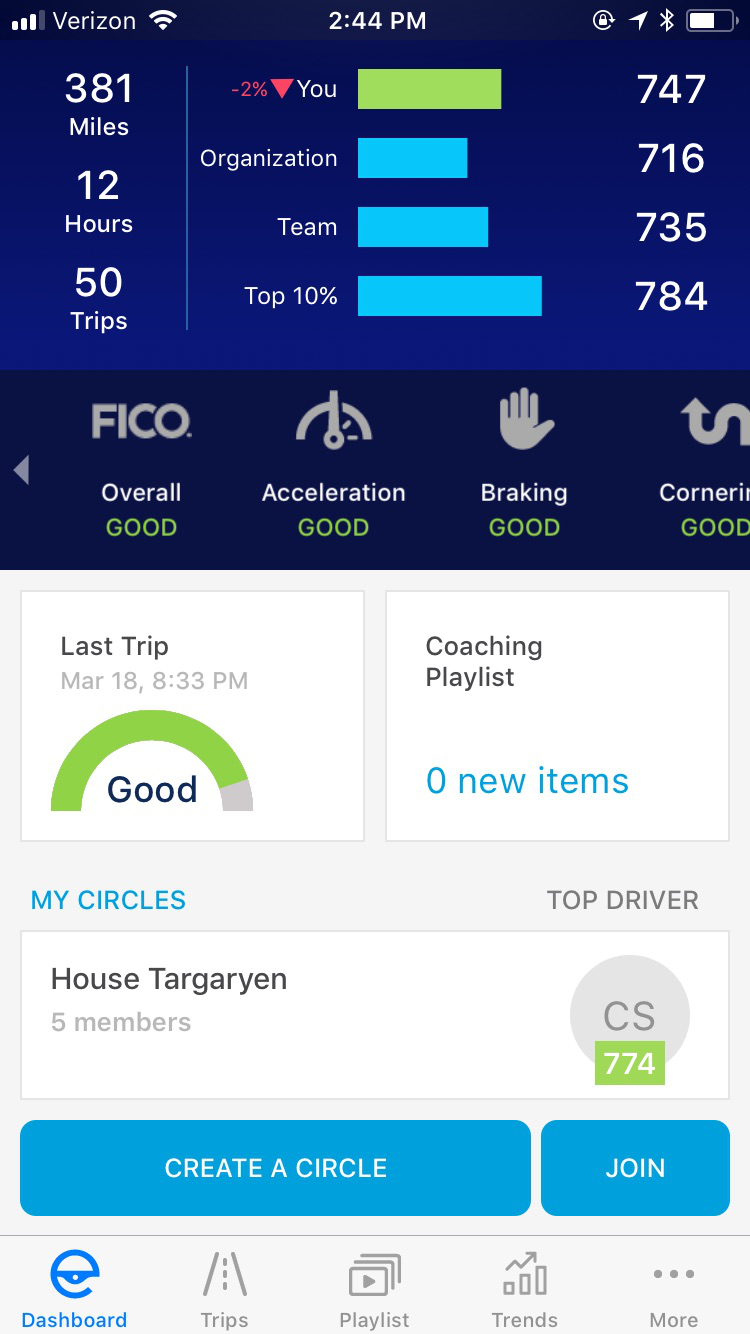 Driver and vehicle safety technologies are advancing rapidly yet crash statistics are moving in the wrong direction.
The National Highway Traffic Safety Administration reports the number of fatal crashes involving large trucks and buses increased 5.4 percent in 2016 and 4.8 percent in 2015.
Is it traffic congestion, higher speed limits, or even global warming to blame? The answer is much simpler.
"The only thing that has fundamentally changed is that we have become addicted to smartphones," says Celia Stokes, the chief executive of eDriving, a provider of online training and risk management services. "It is rewiring everyone's brain. You don't leave it at home when you go to work."
People have become impatient with boredom, she explains, and this includes boredom while driving. As evidence, Stokes cites a Deloitte study that found people glance at their smartphones an average of nine times per hour.
The mission of eDriving is to solve the "94 percent" problem — the percent of crashes caused by driver behaviors and attitudes, she says. While smartphone distractions factor into many accidents, the spectrum of risky behaviors is much broader.
A holistic strategy
During a conference call with CCJ, Stokes explains a patented "closed loop" approach eDriving developed to help fleets drive continuous safety improvement. The approach is called Virtual Risk Manager (VRM) and it has five elements:
Creating and ultimately strengthening a crash-free safety culture
Proactively identifying at-risk drivers through an integration of crash and collision data, telematics data, license check and other data
Creating risk reduction plans for most at-risk drivers
Delivering training targeting driver attitudes and behaviors
Benchmarking
The company brought these elements together into a smartphone and telematics software-as-a-service platform called Mentor. The online platform consists of a driver app and fleet management portal. Together, the technology and closed-loop VRM approach turns driver smartphones from a culprit into a cure for risky behaviors, she says.
A FICO Safety Score
eDriving has been in the consumer business for more than 20 years as a provider of classroom, behind-the-wheel and online training courses for novice drivers.
In 2016, eDriving created an enterprise fleet division by acquiring Interactive Driving Systems. Ed Dubens founded Interactive Driving Systems more than 20 years ago and lead the development of VRM. Since the acquisition, eDriving has been migrating its global fleet customer base with 800,000 drivers to the Mentor platform.
The Mentor app is able to sustain behavioral improvements by engaging drivers. The engagement starts with a risk measurement system that gives drivers an "empirical sense of fairness," Stokes says.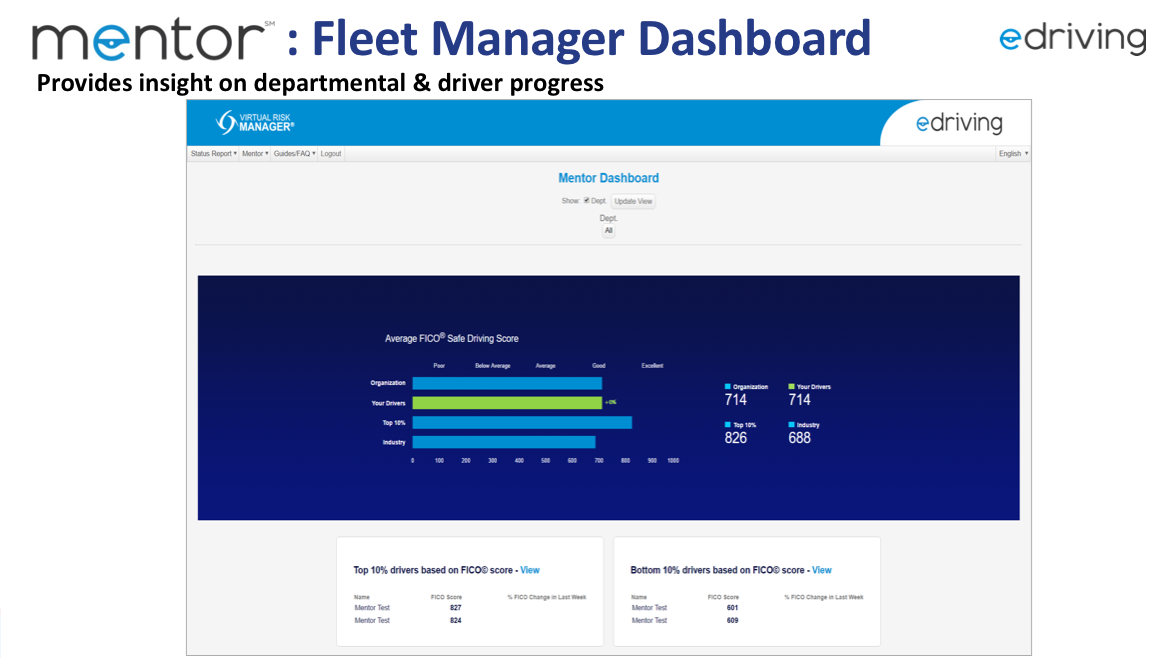 The Mentor platform uses a predictive FICO Safe Driving Score that accounts for driving behaviors that include accelerating, speeding, harsh braking, cornering and phone use. The Mentor app can detect if drivers pick up their phones while driving and its driver interface is disabled while in motion.
eDriving worked with FICO, the company known for predicting credit risk, to develop the FICO Safe Driving Score to be a standard measurement for driving risk. The score uses the same scale as the FICO credit score. For example, 800 to 850 is "Great" and 560 to 709 is "Average."
Unlike a credit score, the FICO Safety Score gives drivers a chance to improve daily with a rolling 7-day average.
"Every new week is another opportunity to become better," Stokes says.
Driving engagement
Another engaging feature in the app are yardsticks for drivers to chart their progress over time and compare themselves with other drivers. The app gives drivers advice on how they can improve.
As part of the closed-loop VRM process, Mentor delivers interactive training content in short bursts to drivers for remediation and reinforcement.
The training videos cover a variety of safety topics and use interactive drag and drop elements and animations. Each video is two or three minutes long, she says, and are available to drivers by assignment in a Coaching Playlist button.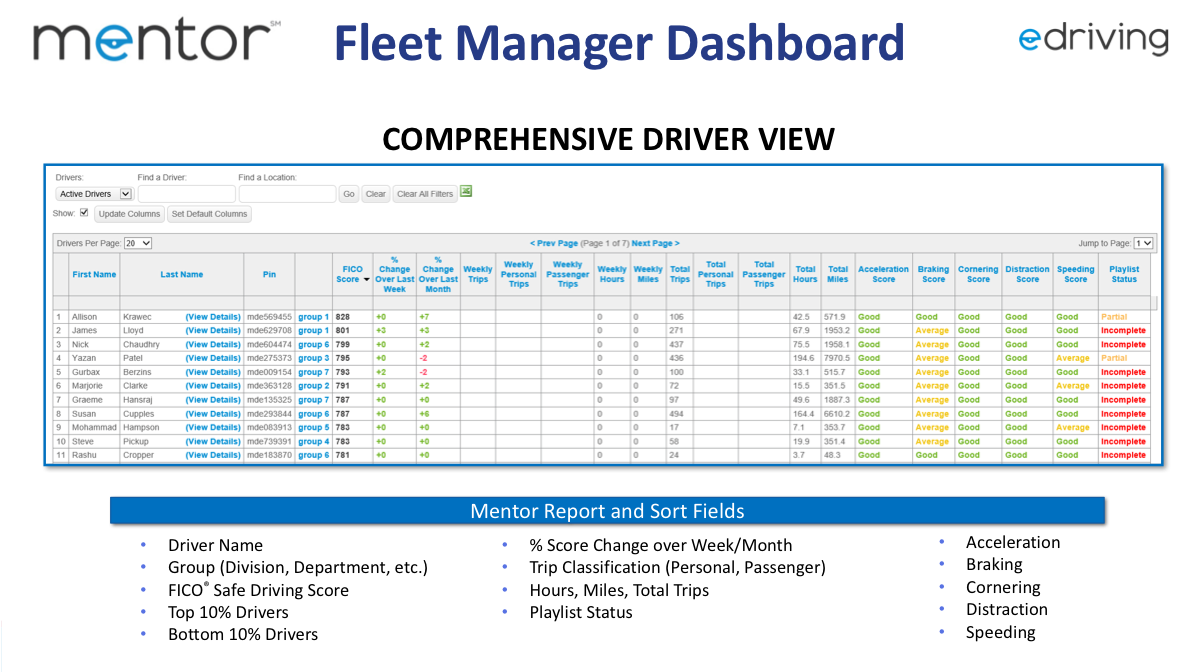 A social circle is another feature in Mentor that drives engagement. Drivers can join other drivers and family members in Fitbit-style competitions for safe driving scores.
The Mentor Fleet Manager Dashboard uses comprehensive safety data collected by the smartphone app and from third-party data from telematics and vision-based safety systems that fleets use. The dashboard can include CSA scores and motor vehicle records as well.
The dashboard has a Driver Index that gives managers a way to quickly identify their top and bottom performers. Managers can also compare the performance of their driver teams and company divisions to others.
Overall, eDriving clients that use its VRM approach and Mentor platform have reduced accidents by up to 67 percent over time, she says. The company offers Mentor as a monthly subscription that ranges from $9.99 to $15.99 per driver, depending on the options selected.
This article was written by Aaron Huff, senior editor of Commercial Carrier Journal, a partner publication of Hard Working Trucks.