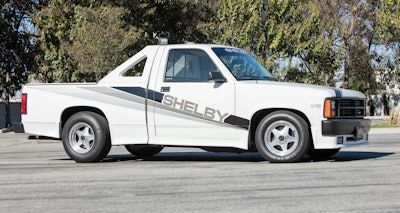 Carroll Shelby's personal auto collection is going to auction this June and among his 23 vehicles are two Dodge trucks.
A 1983 Dodge Shelby pickup concept and a 1988 Dodge Shelby Dakota prototype will be included in the storied lineup at Bonhams' unreserved Greenwich Concours d'Elegance Auction on June 3.
The Dakota prototype paved the way for the 1989 Dodge Shelby Dakota. Only 1,475 of the trucks were produced. The truck's 3.9-liter V6 was swapped out for Dodge's stronger and proven 5.2-liter V8 which was paired up with a four-speed A500 automatic.
However, the engine bay was so tight in the midsize Dakota that an electric fan had to be installed in place of the original belt-driven one. The extra work paid off with five additional horsepower.
Fans of the iconic truck contend that at 175 horses, it was the fastest OEM-produced pickup at that time. We've posted a video below showing a thrilled Shelby Dakota owner starting up his barn find after it sat dormant for years.
On its website, Bonhams reports that more information about Shelby's vehicles will be released as the auction nears.