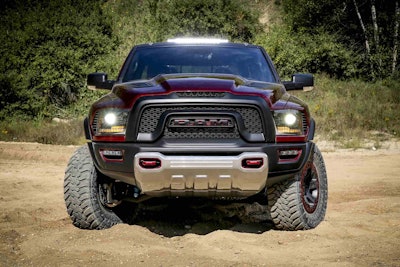 Okay, imagine taking the 707-hp V8 found in the Dodge Challenger and Charger Hellcats and placing it in a Ram truck.
According to 5thgenrams.com, the automaker will be doing exactly that for a 2021 Ram 1500. It seems like a natural progression considering that Dodge's 707-hp beast is currently available in the Jeep Grand Cherokee Trackhawk.
As it stands now, Ram is on track to delivering the world's most powerful, OEM-produced engine in a pickup. A toned down 520-hp 7.0-liter V8 will also be available. The high-performance pickup was inspired by the Ram Rebel TRX concept, which was unveiled in 2016 (see pictures posted on this page).
"The supercharged 6.2L V8 will carry the TRX name with engineers working to have the truck deliver the full 707HP of the Hellcat engine as opposed to the 575 hp of the TRX concept," reports 5thgenrams.com which credits inside sources.
The 7.0-liter equipped variant will be called the Rebel TR. Prototypes of the trucks have been spotted.