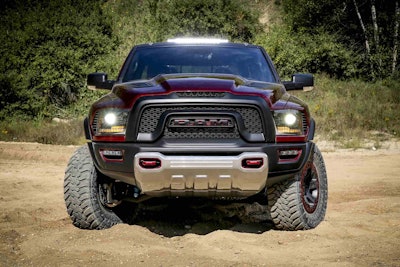 You probably don't want to miss the reveal this Monday of the 2021 Ram 1500 TRX.
While Ram has not officially released any info on the truck, they are reporting that its "new performance-focused off-road pickup" will be streamed online and available for public viewing this Monday at 12 p.m. EST at www.facebook.com/RamTrucks and www.youtube.com/RamTrucks.
It's been two years to the day since we reported on the hotly anticipated Ram TRX which was first revealed as a concept truck in 2016 (photos of that truck are posted on this page). Will the truck have enough power and off-road muscle to compete against Ford's F-150 Raptor? Tune in and find out.