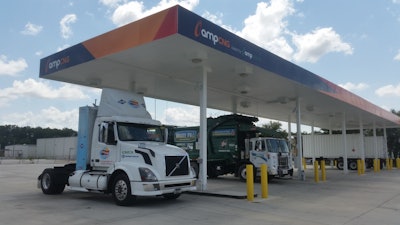 The emissions battlefront just got a lot more interesting.
AMP Americas announced today that its renewable natural gas (RNG) has received the lowest emissions score ever from the California Air Resources Board.
AMP Americas reports that not only did its RNG production facility at Fair Oaks Farms in Indiana received CARB's first dairy waste-to-vehicle fuel pathway certification, it also earned a carbon intensity (CI) score of -254.94 gCO2e/MJ, which is by far the lowest score ever issued by CARB.
To put that in perspective, diesel registers +98, while traditional natural gas is only +79 and California electric is +35. When considering Fair Oaks' CI score of -255, it makes trucks using its RNG far cleaner than electric.
AMP Americas reports that it's able to get that exceptionally low score because during RNG production it captures large amounts of methane gas that CARB views as being a much more potent greenhouse gas than carbon dioxide.
How much more potent? AMP Americas reports that methane is 25 times more potent than CO2.
AMP Americas also announced today that it has opened an office in Los Angeles and has named Martin Gilkes as the company's chief operating officer. Gilkes will lead the AMP Americas team, head up the company's California office, and will work with policy makers and industry colleagues to shape state and federal clean transportation policy. The new office will allow AMP Americas to better serve its expanding customer base in California.
"There are very few credible providers in the dairy RNG space, no one with the level of experience we have operating dairy RNG, and no one with the CNG station network integrated with RNG production assets and marketing capabilities," said Gilkes, a former Mattel executive who holds degrees from Harvard, MIT and Oxford Univesity. "AMP Americas is leading the way in comprehensive renewable fueling for heavy trucks, and I am excited to join this talented team and help realize the massive opportunity in front of us."
AMP Americas CEO Grant Zimmerman says Gilkes varied business experience makes him a valuable addition to the company.
"Adding Martin to our team is an important step for our company," Zimmerman said. "His knowledge and extensive experience as an operator, an investor, and a client service leader will help us execute our aggressive growth plans, achieve our mission to clean up the nation's air, and to preserve our climate by fueling the transformation of heavy-duty trucking with clean natural gas and renewable natural gas."
AMP Americas' first project at Fair Oaks Farms has been in action since 2011 and produces over 1.5 million gallons of 100 percent renewable transportation fuel from dairy waste every year. The project was also the first, and to-date only, U.S. EPA Renewable Fuel Standard-certified dairy waste-to-vehicle fuel project in the U.S. It is also the first of its kind in California's Low Carbon Fuel Standard program.
AMP Americas' Renewable Dairy Fuels (RDF) is investing heavily in dairy RNG projects and partnering with dairy farmers across the country. RDF's investments will bring more ultra-low CI gas to market and will help solve major air quality and climate challenges. Construction is currently underway for the company's second RNG project using dairy digester gas. RDF plans to more than double its dairy gas output by early 2018 and aims to deliver 100 percent RNG to all 20 of its fueling stations as it brings on future projects.