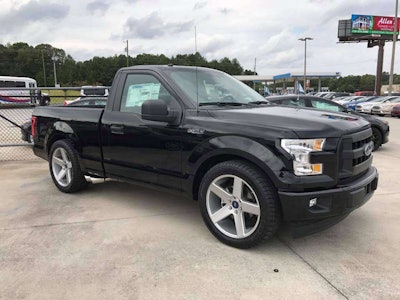 Breman, Ga., a small town about 50 miles west of Atlanta has been getting a lot of attention lately.
Pioneer Ford, a dealership there, recently posted on Facebook that they're offering a 650-hp Lightning Tribute F-150. With 5,500 shares to date, that's nearly as many Facebook shares as there are people in the town which hosts the annual Sacred Harp singing convention.
Facebook users continue to sing Pioneer praises for building the tribute trucks. Ford offered the F-150 SVT Lightning for model years 1999-2004. Its last model offered 380 horses, which in some circles is still impressive, but it's a far cry from 650.
"Thanks for all of the awesome comments guys and gals!" Ford Pioneer posted only a few hours after announcing the truck last Wednesday.
"We built a red one first and it didn't make it a week and never reached the web."
It's easy to see why. For roughly $50,000, buyers get a Roush supercharger bolted to a 5.0-liter V8 along with side exhaust, specially tuned suspension, 3.55 rear axle with electronic locker, 4/2 lowering kit and 22-inch wheels sporting a classic look with a Pioneer twist. Thus far, Pioneer has been building this lethal sleeper on a short-bed, regular cab. They've done some 2017 models and now they're moving on to 2018s.
"Come by and take a look and drive it home today! MSRP is $49,661 and it still qualifies for all of Ford Motor Company's rebates and incentives," Ford Pioneer posted.
However, with all the attention Pioneer's getting for its Lightning Tribute, we're not so sure that you'd be able to drive yours home today. And some may even hold out for more power, which is fine with Pioneer.
"We could make this one over 800 [horsepower] with a few tweaks and tune, but cannot offer a warranty though," Pioneer told one Facebook user who didn't think 650 horses went quite far enough.
Never hurts to ask.