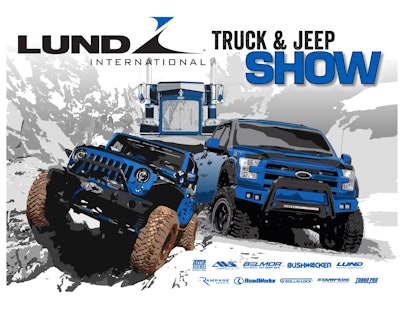 Covering all the fun facets of truck and Jeep ownership, the "Lund International Truck & Jeep Show" will debut on Sunday, Oct. 1 at 8 a.m. Eastern on Velocity.
Hosted by truck and Jeep builder, NOPI championship racer and "Fast and Furious" car builder Sam Mahdavi, the new series will cover popular enthusiast events, road trips, product installs and "how-to's" for the off-road, street truck and heavy-duty enthusiast.
The premiere episode will take viewers to Sevierville, Tennessee for the "Jeeps & Peeps" show, a popular gathering of female Jeep enthusiasts who show off their rides and browse the massive selection of parts and accessories on display. Subsequent episodes will visit the "Walcott Truckers Jamboree," the "HOT ROD Power Tour," and the "Great Smoky Mountain Jeep Invasion. "
The new series will also feature installations and applications of Lund International products. It will serve as a rich and insightful resource, with perspectives from the people who designed and built the parts and accessories that are so popular with truck and Jeep enthusiasts. Further, the new program will offer viewers a unique look at how Lund International products provide practical solutions to common challenges, such as easily getting a family into a pickup, or improving access to the truck bed.
"The 'Lund International Truck & Jeep Show' will take viewers on an incredible journey," said Lund International Chief Executive Officer Mitch Fogle. "They will learn about and experience the truck and Jeep lifestyle, see awe-inspiring truck and Jeep shows and events around our great country, and they'll also see exciting products in use and how they help address common everyday problems, along with how easy most are to install."
With Lund International's rich and longstanding history in the truck and Jeep aftermarket, and as a premier designer and US-based manufacturer of innovative accessories for trucks and Jeeps of all classes, the employer of over 1,000 American workers is excited to connect with fans and enthusiasts through this new program.
The "Lund International Truck & Jeep Show" will air Sundays at 8 a.m. Eastern time on Velocity Network, with three additional showings on the MAVTV and REV'N networks. Visit the PowerScope Productions website for more information. .
"LUND INTERNATIONAL TRUCK & JEEP SHOW" SERIES
EPISODE SCHEDULE
Episode
Description
Velocity
MAVTV
REV'N
1
Great Smoky Mountain Jeep Invasion, classic trucks from Hollywood, FL, and Jasper, GA trail ride
Sun. – 10/1/17 @ 8:00 am EDT
Fri.-10/6/17 @ 9:00 am EDT Fri.-10/6/17 @ 12:00 noon EDT
Sun.-10/8/17 @ 8:00 am EDT
Wed.-10/4/17 @ 9:00 pm EDT
Sat.-10/7/17 @ 6:00 pm EDT
Sun.-10/8/17 @ 12:30 pm EDT
2
Hot August Nights in Bristol, TN/VA, Jeeps from Smoky Mountain Jeep Invasion, and rock crawlers and Wind Rock, Knoxville, TN
Sun. – 10/8/17 @ 8:00 am EDT
Fri.-10/13/17 @ 9:00 am EDT
Fri.-10/13/17 @ 12:00 noon EDT
Sun.-10/15/17 @ 8:00 am EDT
Wed.-10/11/17 @ 9:00 pm EDT
Sat.-10/14/17 @ 6:00 pm EDT
Sun.-10/15/17 @ 12:30 pm EDT
3
Jasper, GA obstacle course, Smoky Mountain Show Circle, and classics from TriFive, Bowling Green, KY
Sun. – 10/15/17 @ 8:00 am EDT
Fri.-10/20/17 @ 9:00 am EDT
Fri.-10/20/17 @ 12:00 noon EDT
Sun.-10/22/17 @ 8:00 am EDT
Wed.-10/18/17 @ 9:00 pm EDT
Sat.-10/21/17 @ 6:00 pm EDT
Sun.-10/22/17 @ 12:30 pm EDT
4
Chattanooga Cruise-in, more jeeps from the Smoky Mountain Invasion, Cades Cove trail ride.
Sun. – 10/22/17 @ 8:00 am EDT
Fri.-10/27/17 @ 9:00 am EDT
Fri.-10/27/17 @ 12:00 noon EDT
Sun.-10/29/17 @ 8:00 am EDT
Wed.-10/25/17 @ 9:00 pm EDT
Sat.-10/28/17 @ 6:00 pm EDT
Sun.-10/29/17 @ 12:30 pm EDT
5
Iowa 80 Truck Stop, Smoky Mountain Jeep Invasion top five, and the Lokar Open House
Sun. – 10/29/17 @ 8:00 am EDT
Fri.-11/3/17 @ 9:00 am EDT
Fri – 11/3/17 @ 12:00 noon EDT
Sun – 11/5/17 @ 8:00 am ET
Wed.-11/1/17 @ 9:00 pm EDT
Sat.-11/4/17 @ 6:00 pm EDT
Sun.-11/5/17 @ 12:30 pm ET
6
Jasper, GA mud bog, Iowa 80 Jamboree, and Burning up the Beaches in Destin, FL
Sun. – 11/5/17 @ 8:00 am ET
Fri.-11/10/17 @ 9:00 am ET
Fri.-11/10/17 @ 12:00 noon ET
Sun.-11/12/17 @ 8:00 am ET
Wed.-11/15/17 @ 9:00 pm ET
Sat.-11/18/17 @ 6:00 pm ET
Sun.-11/19/17 @ 12:30 pm ET
7
Iowa 80 – Light Show – Walcott, IA, Wind Rock extreme rock crawl
Sun. – 11/12/17 @ 8:00 am ET
Fri.-11/17/17 @ 9:00 am ET
Fri.-11/17/17 @ 12:00 noon ET
Sun.-11/19/17 @ 8:00 am ET
Wed.-11/22/17 @ 9:00 pm ET
Sat.-11/25/17 @ 6:00 pm ET
Sun.-11/26/17 @ 12:30 pm ET
8
Heritage Days in Greenville, PA, Iowa 80 Museum, Wind Rock trail ride
Sun. – 11/19/17 @ 8:00 am ET
Fri.-11/24/17 @ 9:00 am ET
Fri.-11/24/17 @ 12:00 noon ET
Sun.-11/26/17 @ 8:00 am ET
Wed.-11/29/17 @ 9:00 pm ET
Sat.-12/2/17 @ 6:00 pm ET
Sun.-12/3/17 @ 12:30 pm ET
9
Jeep and Peeps custom jeeps from Seiverville, TN, Jasper, GA Show & Shine and obstacle course
Sun. – 11/26/17 @ 8:00 am ET
Fri.-12/1/17 @ 9:00 am ET
Fri – 12/1/17 @ 12:00 noon ET
Sun – 12/3/17 @ 8:00 am ET
Wed.-12/6/17 @ 9:00 pm ET
Sat.-12/9/17 @ 6:00 pm ET
Sun.-12/10/17 @ 12:30 pm ET
10
More from Jasper, GA Jeeps and Peeps in Sevierville, TN
Sun. – 12/3/17 @ 8:00 am ET
Fri.-12/8/17 @ 9:00 am ET
Fri – 12/8/17 @ 12:00 noon ET
Sun – 12/10/17 @ 8:00 am ET
Wed.-12/13/17 @ 9:00 pm ET
Sat.-12/16/17 @ 6:00 pm ET
Sun.-12/17/17 @ 12:30 pm ET
11
Jasper, GA obstacle course and trail ride, custom jeeps from Smoky Mountain Jeep Invasion
Sun. – 12/10/17 @ 8:00 am ET
Fri.-12/15/17 @ 9:00 am ET
Fri.-12/15/17 @ 12:00 noon ET
Sun.-12/17/17 @ 8:00 am ET
Wed.-12/20/17 @ 9:00 pm ET
Sat.-12/23/17 @ 6:00 pm ET
Sun.-12/24/17 @ 12:30 pm ET
12
Jasper, GA hill climb and mud bog
Sun. – 12/17/17 @ 8:00 am ET
Fri.-12/22/17 @ 9:00 am ET
Fri – 12/22/17 @ 12:00 noon ET
Sun – 12/24/17 @ 8:00 am ET
Wed.-12/27/17 @ 9:00 pm ET
Sat.-12/30/17 @ 6:00 pm ET
Sun.-12/31/17 @ 12:30 pm ET
13
2017 SEMA Show, Las Vegas, NV
Sun. – 12/24/17 @ 8:00 am ET
Fri.-12/29/17 @ 9:00 am ET
Fri – 12/29/17 @ 12:00 noon ET
Sun – 12/31/17 @ 8:00 am ET
Wed.-1/3/17 @ 9:00 pm ET
Sat.-1/6/17 @ 6:00 pm ET
Sun.-1/7/17 @ 12:30 pm ET