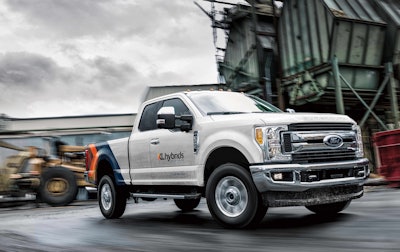 XL Hybrids announced today that it will soon begin production on the first-ever, ship-thru hybrid system for a Ford Super Duty truck.
XL Hybrids, a Ford eQVM partner, reports that it adapted its XL3 Hybrid Electric Drive System for 2018 Ford F-250 trucks based on demand from fleet customers who want even better fuel efficiency from Ford's popular 3/4-ton work trucks.
This will be the first time that Ford F-250 trucks can be ordered by fleet customers with hybrid-electric drive technology. Fleets can expect up to a 25 percent increase in fuel efficiency and accompanying reductions in CO2 emissions.
"Ford Super Duty vehicles are in-demand by XL Hybrids' fleet customers and so we have developed our hybrid-electric upfit solution for the F-250 pickup to meet our customers' need for power and payload, as well as better fuel economy," said Ed Lovelace, chief technology officer for XL Hybrids. "We recently surpassed a landmark 50 million total combined customer road miles, and our experience in successfully supporting leading fleets informs our product roadmap. Our solution roadmap continues to be focused on delivering the most seamless, cost-effective fleet electrification solutions for OEM vehicles that our customers ask for."
Ford is excited about the XL Hybrids upfit, which will be available in the first quarter of 2018.
"We're excited to see XL Hybrids launch its hybrid-electric upfits for our F-250 work trucks to help meet a growing customer need for improved efficiency while maintaining power, torque and work capability," said Kevin Koswick, Ford director, North American Fleet Lease and Remarketing Operations. "We look forward to supporting XL Hybrids, a qualified eQVM program participant, with their technology and new upfit offerings in the commercial fleet market."
The XL3 system will be the first offered as a ship-thru upfit on the 2018 F-250 equipped with the 6.2-liter V8 gas engine. That spec offers a range of wheelbases, cab and bed configurations in both 4×2 and 4×4 options. As with each XL3 installation, all components are installed under the vehicle, allowing the pickup bed's full capacity.
Installation of the XL3 system can be completed in just hours. XL3 technology leaves the OEM engine, transmission, fuel system and exhaust system completely intact. Fleets maintain the complete OEM warranty, and get a three-year, 75,000-mile warranty from XL Hybrids on the XL3 powertrain. The XL3 system requires no special maintenance, charging infrastructure or driver training. XL Hybrids is a qualified participant as both a technology provider and an installer in Ford's Electrification Qualified Vehicle Modifier (eQVM) program.
Ford recently expanded its Qualified Vehicle Modifier (QVM) program to include companies that develop and install electrified powertrains for commercial vehicles, including trucks, vans and shuttles. XL Hybrids was the first company included in the program. eQVM helps fleet and commercial fleet customers meet their unique and specific needs for durable, reliable electrified work trucks that retain the original powertrain warranty.
"The F-250 is a great complement to our existing product line-up," said Clay Siegert, XL Hybrids' co-founder and chief operating officer. "Our hybrid electric upfit solution for the F-250 is XL Hybrids' second product for Ford pickup trucks, after our XLP plug-in hybrid electric upfit for Ford F-150 half-ton pickup trucks. As we celebrate the achievement of more than 50 million total combined customer road miles, we are excited to continue introducing new products and meeting our customers' needs with both hybrid electric and plug-in hybrid electric solutions."
XL Hybrids vehicles include the XL Link cloud-based big data analytics system, which measures MPG performance and reports sustainability benefits. XL Link's proprietary vehicle connectivity is a continuous data link from every vehicle, collecting millions of operational data points, allowing analysis and reports on key performance indicators.
Orders are being taken now for Q1 2018 ship-thru installation.
For more information on XL Hybrids' technology and availability, visitwww.xlhybrids.com or email info@xlhybrids.com. XL3 hybrid electric upfits for various Ford Transit, E-Series, and F-Series models are available directly from Ford dealers. Ford Motor Credit financing is available.