Truck & van briefs this week: We'll keep it short as we report
Ford's $1.45B investment supports all-new F-150, hybrid F-150, electric F-150 and all-new Ranger
Ford announced this week that it's investing more than $1.45 billion in two southeast Michigan manufacturing facilities and adding 3,000 new jobs to strengthen its truck and SUV production and support the company's expansion into electric and autonomous vehicles.
Ford will invest $750 million and add 2,700 new direct jobs in the next three years at Ford's manufacturing facility in Wayne, Mich., to build the new Ford Bronco, an all-new Ford Ranger and a new modification center to support autonomous vehicles and other vehicles
The company also will invest about $700 million and add 300 new direct jobs at its Dearborn, Mich., manufacturing site to support production of the all-new Ford F-150, F-150 hybrid, both of which are set to debut in 2020, and the all-electric F-150, including battery assembly.
3.0-liter Duramax lands on Wards Top 10 list
General Motors' new 3.0-liter Duramax diesel was chosen by Wards Auto this week as one of its 10 Best Engines & Propulsion Systems of 2020. Editors chose the straight-six (277-hp, 460 lb.-ft. torque over the 3.0-liter V6 oil burners offered from Ram (260 hp and 480 lb.-ft.) and Ford (250 hp and 440 lb.-ft.).
In rear-wheel-drive trucks, the 3.0-liter Duramax delivers an EPA-rated 33 mpg highway, 23 mpg city. Ram's 3.0-liter EcoDiesel is rated at 32 mpg highway, 22 mpg city. Ford's 3.0-liter Powerstroke sips along at 30 mpg highway and 22 mpg city.
Hard Working Trucks got familiar with GM's new oil burner at a Chevy media event this past summer. The 2020 Silverado 1500 my brother John and I test drove was a cash-friendly fuel miser with impressive off-the-line power. No lag. Just get up and go. For those that believe that clatter matters, this is not an engine for you. It's the quietest diesel we've ever driven. Check out more in our article here which includes interviews with Chevy engineers.
Hankook launches new Dynapro MT2 off-road tire
Following its popular off-road Dynapro MT comes Hankook Tire's Dynapro MT2 which the company says is its "most capable and extreme off-road tire Hankook has ever offered."
Engineered with 3D simulation software, Hankook leveraged the latest tire manufacturing processes to develop the Dynapro MT2's Terrain Strike Tread Design. With an aggressive, high-void tread pattern, the tire is optimized for traction in mud, dirt, rock, sand and gravel surfaces. The tire's sidewall features an integrated linking system that marries the shoulder and sidewall blocks which is designed to increase overall rigidity, traction, and protection from puncture and off-road abrasions.
"We're excited to offer drivers a purpose-built tire designed to take on the toughest terrain both on and off-road," said Hosung Suh, President, Hankook Tire America Corp. "Hankook's new split mold technology improves sidewall durability and gives the tire a more seamless look by linking the shoulder and side wall blocks, making the Dynapro MT2 a perfect fit for the next generation of off-road vehicles."
The latest addition to the Dynapro product line will be available in over 40 sizes with select sizes currently available now for purchase from Hankook-certified dealers. For more details on Hankook Tire's new Dynapro MT2 tire, visit hankooktire.com/us.
Weather Guard introduces new New CabMax Composite Bulkhead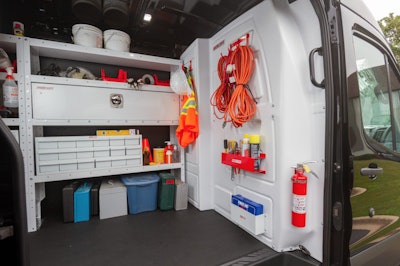 Weather Guard launches its new CabMax Composite Bulkhead for commercial van users, contractors and technicians.
The new Weather Guard CabMax Composite Bulkhead protects drivers from shifting loads and provides enhanced comfort, noise reduction, climate control and customization options. Additionally, the new Bulkhead has added space for equipment, materials and tools, allowing pros to haul more to the jobsite.
The CabMax Composite Bulkhead requires no drilling and minimal components to assemble prior to installation.