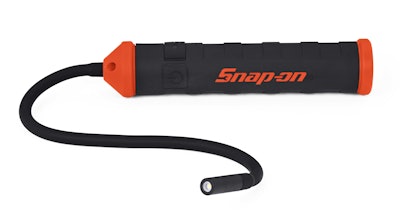 Snap-on introduces its ECSPJ002 60 lumen bendable light, designed to brighten even the smallest, darkest areas.
With an ultra-slim head that measures a mere 0.36 in., and a gooseneck that extends a full 10.5 in., this flexible solution gets into the nooks and crannies other lights can't come close to reaching, Snap-on says.
The 60 lm output stays bright for more than four hours and is easily rechargeable in just two hours. This light also has sturdy engineering behind it and is made with materials that are oil resistant, especially helpful when reaching around under hood elements. An added bonus is the light handle that is made with a grip designed for comfort, the company says.