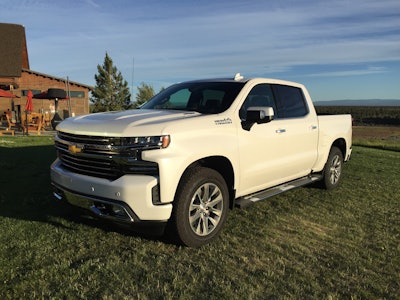 Quiet, powerful, comfortable and fuel-efficient.
Chevy's foray into the light-duty diesel pickup segment will turn plenty of heads.
The 2020 Silverado 1500 is equipped with the company's first straight-six diesel: a 3.0-liter Duramax that maxes out at a class-leading 277 hp at 3,750 rpm. Torque tops out at 460 foot pounds at 1,500 rpm.
"We even get 95 percent of that torque down to 1,250 (rpm)," Chevy engineer John Barta explains in the video below.
Torque comes quickly through GM's 10-speed transmission along with improved fuel efficiency. Following a 40-mile trip through winding and climbing roads in Prineville, Oregon, an LTZ Z71 delivered an average of 27mpg according to the truck's trip display. Its fuel-sipping nature did little to damper its spirit. Power came quickly no matter the grade.
"The 10-speed (transmission) always allow to keep the torque at the level you want to have," says Chevy engineer Vincenzo Verdino.
The Silverado's VGT activated turbo delivers quick access to torque resulting in great performance and little hesitation.
"It's great for towing," Barta says. "We have a tow rating of 9,300 pounds. It's not best in class for the Silverado but we've brought to this vehicle a balance of towing and power and great fuel economy because we know 90 percent of our customers are covered by that 9,300 pound tow rating."
The truck's suspension made rough roads easy on the way to Powder House Cove at the Prineville Reservoir. Though the interior is rather spartan compared to competitors' pickups, this may enable Chevy to offer some cost savings. We'll have to wait and see as neither MSRP nor fuel economy have been announced.