Letting high-tech

PIAA LP550 LEDs l

ight the road
When the touch of a dash-mounted switch brings the sun out on a stretch of twisting, two-lane country road, the edginess of night driving is softened considerably.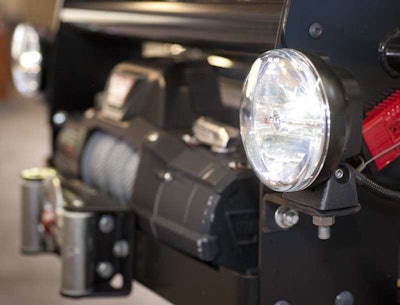 That's what I found when I installed and tested a set of PIAA's newest innovation in lighting products on a 2011 GMC Sierra 1500: the LP550 LED driving lights.
These five-inch-diameter lights use a single, rear-facing LED to provide a bluish-white light (6000 degrees Kelvin) with the intensity of those on a small aircraft coming in for a landing.
They appear to be at least twice as bright as the GMC's high-beams with about 30-percent longer reach.
Their brightness comes from PIAA's exclusive Reflector Facing Technology (RFT), which uses LED rearward-facing bulbs to concentrate and focus the beam pattern more precisely than other driving light designs.
PIAA says RFT provides greater light output-per-watt while drawing less amperage than traditional HID, halogen and forward-facing LED driving lights.
The LP550s also come with a limited lifetime warranty, so their $400/pair cost can be amortized over a long period of time on whatever vehicle or piece of equipment they might be installed on.
Installation is easy because the lights come with a quality harness with switch and relay already wired in.
All one has to do is run the harness, mount the lights, plug in the connectors, and hook the ground and hot to the battery or other 12V power source.