AMP Research Powerstep Employs Plug-N-Play For Fast installs
AMP Research
, a division of
Lund International
, has just taken the Powerstep automated running boards to the next level of innovative refinement, simplifying the electrical
installation
to a mere "Plug-and-Play" that will cut installation times by about 90 minutes.
AMP's
Powerstep
with Plug-and-Play simplifies the electrical integration to just plugging it in. It provides a factory wired solution without having to tap into factory wires, innovative refinement at its best.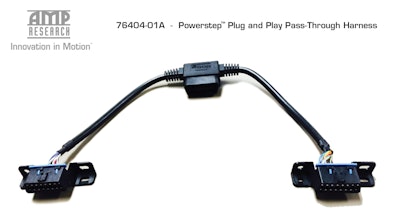 In addition, AMP Research has an optional Pass-Through Harness to create a duplicate OBDII port, just in case you needed that port for another accessory.
The 2014 1500 Silverado and Sierra are the first applications to utilize this new technology. Lastly, if the OBDII port is already in use, the Pass-Through Harness allows for an additional port at the connection point.