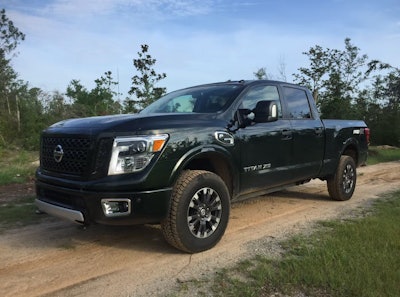 Tom Quimby
At a time when prices continue to soar for used vehicles, it was pickups that saw some of the lowest year-over-year price hikes in February.
According to iSeeCars latest monthly report on used car sales, three trucks made their top 10 list for used cars with the smallest price changes for the month of February.
Honda Ridgeline had the smallest price bump among used pickups with an average cost hike of 17.7%. The midsize truck ranks seventh on the list with an average selling price last month of $36,010.
The pre-owned Nissan Titan XD placed ninth with a 20.2% uptick in price over February of last year. Average cost for a used Nissan Titan XD was $42,312.
Ford F-150 took 10th place with a 20.5% price jump and an average cost of $43,807.
"The Nissan Titan and its XD heavy-duty-ish model are the slowest-selling trucks in the full-size segment and the Honda Ridgeline is among the slowest-selling in the compact segment, reflecting low demand in the used car marketplace," said iSeeCars Executive Analyst Karl Brauer.
"The Ford F-150 is the most popular vehicle across all categories and was redesigned in 2021, so older versions are in abundance in the used car market and aren't in as high demand as other pickup trucks," Brauer continued.
[Related: One last ride in the 2019 Nissan Titan XD]
All told, used pickups had the smallest price increase among other all other body types with an average cost hike of 22.8%. Wagons and hatchbacks saw the biggest price jumps at 41.6% and 41% respectively.
While a 20.5% jump is anything but small, overall the average cost for a used car in February shot up 35%. The average price for a used car among the 1.8 million that sold last month came in at a hefty $35,029. Venezuela anyone?
Brauer and other analysts point to the ongoing microchip shortage and other supply chain constraints as continual drivers behind rising used vehicle costs. February's 35% year-over-year uptick is slightly down from January's average price hike of 36.9%.
However, with the war in Ukraine kicking off on Feb. 20, March and subsequent months may see sharper price hikes for used vehicles.
Steve Latin-Kasper, director of market data and research at the National Truck Equipment Association (NTEA), told an audience last week at The Work Truck Show that Russia, which invaded Ukraine with the sole purpose of taking possession of the sovereign nation, is a big supplier of palladium which is used to manufacture catalytic converters.
In addition to that, Latin-Kasper pointed out that Ukraine is the world's leading exporter of neon gas which is used in microchip production. Latin-Kasper didn't mince words.
"We are potentially looking at a second microchip crisis," he said.
Brauer also expressed concern about rising vehicle prices and advised a less particular approach when it comes to vehicle shopping.
"While consumers were previously advised to wait to purchase a used car if they were able to do so, new geopolitical factors are expected to exacerbate and prolong the present used car price increases," Brauer said. "The best way for American consumers to avoid significantly higher prices for the foreseeable future is to either maintain their current vehicle or purchase a used vehicle that isn't in high demand, and to be as flexible as possible with factors such as color and trim."
Cuba anyone?