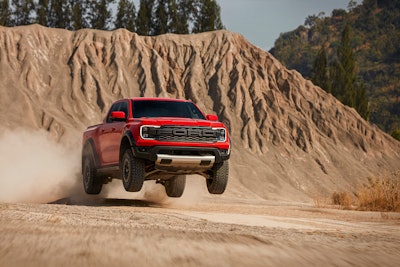 Ford
When the Ford Ranger catches air, it's certain to catch your attention.
Thanks to the new Ford Ranger Raptor, truck enthusiasts in Europe will soon get that chance.
Unlike the current 4x4 Ranger, the Raptor version of the midsize truck is being built to jump and take the punishment of hard landings.
Seven selectable drive modes and re-engineered suspension featuring Ford Performance-developed FOX 2.5-inch Live Valve internal bypass shock absorbers are designed to take on tougher terrain than your typical 4x4.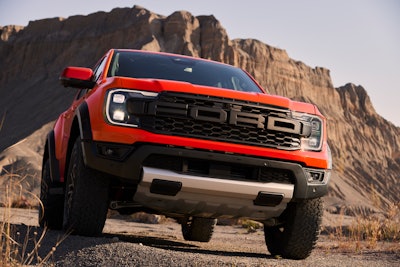 A series of Raptor-specific mounts and reinforcements including the C-pillar, load box and spare wheel, as well as unique frames for the jounce bumper, shock tower and rear shock bracket all combine to ensure Next-Gen Ranger Raptor can handle punishing off-road conditions.
All-new lightweight aluminium upper and lower control arms, long‑travel front and rear suspension and a refined Watt's link rear end have been designed to deliver more control across rough terrain at high speed.
"The suspension upgrades in the Ranger Raptor make the most of the new FOX Live Valve dampers," said Dave Burn, Ford Performance chief program engineer for Ranger Raptor. "The suspension adapts in real-time to enable exceptional on-road body control while absorbing corrugations and bigger ruts off-road with ease, ensuring maximum control and performance."
While I've jumped the Ram TRX and the Ford F-150 Raptor, I've yet to jump a midsize pickup. Once Ranger Raptor finally hits the U.S. market, I'll be happy to turn it loose and see how it flies.
Under the hood
One of the powerplants for the all-new Ranger Raptor is a twin-turbo 3.0-liter EcoBoost V6 bolted to a 10-speed automatic which is rated at 288 horsepower and 362 lb.-ft. torque. That's not exactly a big jump from Ranger in the U.S. where its 2.3-liter engine comes in at 270 horses and 310 lb.-ft. torque.
The other powertrain—remember, this is Europe—will be the 2.0-liter EcoBlue bi-turbo diesel. More details on that will be available closer to launch.
Ford is also addressing turbo lag in the 3.0-liter EcoBoost. A new anti-lag system, available in Baja mode, keeps the turbochargers spinning for up to three seconds after the driver backs off the throttle, allowing for faster resumption of acceleration out of corners or through the gears when the driver steps back on the accelerator. In addition, the engine is programmed with an individual turbocharging boost profile for each of the 10-speed automatic transmission's gears.
Sounding off
Even as OEMs like Ford are switching over to quiet, all-electric powertrains, they also realize the value in making a powertrain sound like a winner. To that end, Ranger Raptor is getting an electronically‑controlled active exhaust system that amplifies the engine note in four selectable modes.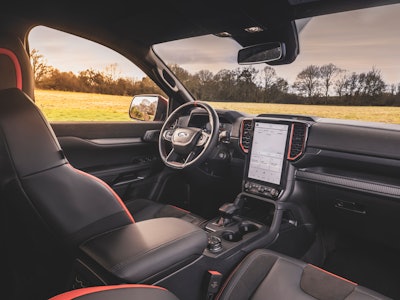 Drivers can choose their preferred engine sound by pressing a button on the steering wheel, or by selecting a drive mode that uses one of the following settings:
Quiet – prioritizes quietness over performance and sound to keep peace with the neighbors on early mornings
Normal – intended for everyday use, this profile offers an exhaust note with presence while not being too loud for street use. This profile is applied by default to Normal, Slippery, Mud/Ruts, and Rock Crawl drive modes
Sport – offers a louder and more dynamic note
Baja – the most striking exhaust profile in both volume and note, in Baja mode the exhaust behaves more like a straight-through system. Intended for off-road use only unless of course you want to crank things up with the neighbors.
"We've really focused on delivering a genuine performance truck with the Next-Gen Ranger Raptor," Burn said. "It's significantly faster, looks incredible, is packed with new features, and it's the toughest Ranger we've ever made."
Clearly, for the U.S. market, Ranger Raptor will need to rise well above its current 270-hp 2.3-liter engine. And naturally, the market would pretty much go nuts here for a diesel variant so long as it doesn't have a nutty price tag. But as history has shown, diesel buyers get smacked with a big upcharge and higher prices at the pump. Too bad.
Aussies Down Under also have access to Ranger Raptor and a diesel variant too while truck enthusiasts in the U.S. still wait and wonder. If Ford wants to really pump up Ranger sales in the U.S., then roll out a Raptor version that will blow away all other midsize competitors and maybe most full-size pickups too.