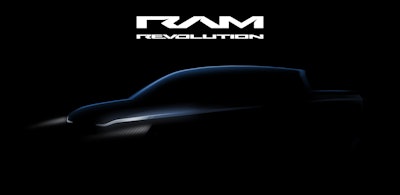 Ram
As Ram ventures into all-electric powertrains, they've got plans to lean on a range-extending engine along the way.
Mike Koval Jr., CEO of Ram Trucks, recently told EV Pulse that the internal combustion add-on will give Ram a "class shattering" advantage over their competition which in the growing electric pickup segment includes Ford, GM and Rivian.
Beyond that, Koval would not elaborate on engine including capability or fuel source. To help lessen the truck's carbon footprint, a range-extending engine could be paired up with renewable diesel, biodiesel, renewable natural gas or bio-propane.
There's also no shortage of after-treatment systems to help with exhaust, including Transient Plasma Emissions Remediation System which the California-based company says can reduce NOx up to 80% while cutting diesel particulates up to 85%. No DPF regeneration is required.
[Related: Eaton seeing tremendous interest in 48-volt hybrids]
The notion of a range-extending engine is nothing new. When Workhorse introduced its electric W-15 pickup in 2017 (read more about that here) the 460-hp truck came paired up with a three-cylinder BMW I3 engine.
The W-15 was designed to run on all-electric power first, around 80 miles on average, before switching to the engine for extra range. When the W-15 was morphed into the Lordstown electric Endurance pickup, the range-extender was dropped.
Fast-forward five years later and Ram is the first OEM to have returned to the idea—and in a space where trucks are expected to work and play hard you can't help but wonder if other manufacturers will follow.
While Ford doesn't offer a range-extender in their all-electric F-150, they do offer a hybrid F-150 that performed so well in terms of power and range that it sidelined their pricey diesel option.
[Related: Ram's new website seeks customer input on EV development]
When GM unveiled their all-electric truck offerings across their Chevy and GMC brands, there was no mention of a range extender. However, GM is no stranger to electrification in trucks. It wasn't that long ago that a mild hybrid could be optioned in their light-duty Chevy and GMC pickups. So, do they have plans to recouple internal combustion with all-electric?
"Per your questions, GM has been accelerating its 25-plus years of electrification experience to exceed our customers' expectations," a GM spokesperson told Hard Working Trucks. "In 2020, we introduced the dedicated Ultium Platform, a combined electric vehicle architecture and modular propulsion system, that is capable of delivering performance, efficiency and scale beyond any previous hybrid or extended range EV technology. Because the Ultium Platform is modular, it can power a variety of electric vehicles, including the Chevrolet Silverado EV."
So it looks like that's a 'no' for now, but in this business, much like Ram TRX's advertised 0 to 60 mph time of 4.5 seconds, anything can happen.