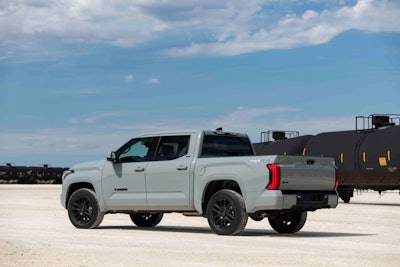 Social media sites are reporting turbo problems with the 2022 Toyota Tundra while Toyota is saying that they're not "aware of a recall or wide-spread issue" with the induction device.
At Toyota forum toyoheadquarters.com, a new 2022 Tundra is shown in a photo with the body separated from the chassis in what appears to be a Toyota service center. Another photo (see below) shows one of the truck's twin turbos on Toyota's new i-Force 3.5-liter V6.
Posted by site moderator MG and titled 2022 Toyota Tundra Twin Turbo Recall, the photos are capped by a statement reading, "So...we are seeing some issues with the 2022 Toyota Tundra and the twin turbos (waste gate) and they will need to be replaced,."
On Tuesday, Toyota reported having no knowledge of a turbo recall for their redesigned truck which the automaker has reported being in high demand. As of Tuesday, the National Highway Traffic Safety Administration's website showed no complaints or recalls for the pickup which began rolling out to dealers last month.
[Related: Demand is 'very strong' for 2022 Toyota Tundra]
Meanwhile, a 2022 Tundra owner on Reddit also reported turbo failure. TileMillennial states that he "was entering a highway when [the check engine light] randomly turned on."
A picture of the driver display from the Limited 4x2 shows the tachometer at 2,000 rpm and the speedometer at roughly 78 mph. In addition to the check engine light being on, a message in the center of the display reads: "Check engine. Reduced engine power. Visit your dealer."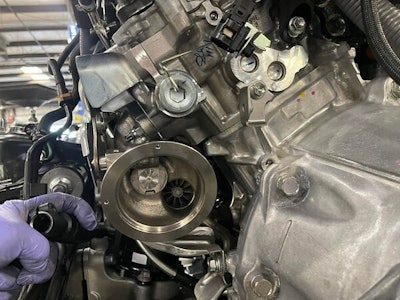 TileMillennial reports that he did just that and learned that the truck's powertrain problem "was traced to a turbo wastegate failure."
A vehicle shortage nearly killed any chances for a loaner, notes TileMillennial who depends on his truck for work. He's now driving a "Camry for god knows how long."
Facebook group 2022+ Toyota Tundra Owners had the following message posted on Jan. 3 by a repair shop owner in Georgia.
There was a bad batch of wastegate actuators causing the majority of these check engine lights. Electrical issue within the actuator, not a mechanical issue. Parts are currentlv not available. Dealerships are working with their regional field engineers to get replacements directly from the factory. This consists of replacing the turbo, manifold, and wastegate actuator as a complete unit.Please be patient. This is a supplier issue, not a Toyota production issue.
Toyota forum Tundras.com also has its share of comments and concerns as enthusiasts anxiously wait on Tundra deliveries.
"It's definitely an issue, but scope and scale seem to be a bit undetermined," one user writes. "I've only read one report of it on here (not saying that's the only user here who has experienced it). Caveat emptor and all, but I'm not letting it stand in my way from picking mine up."
That comment generated some strained optimism concerning Toyota's ability to respond to the problem as new truck orders keep piling up.
"The only thing I've been worried about is the timeline on parts," a Tundras.com forum member writes. "From what I've heard Toyota is all over it but apparently trucks are having to go back with no estimated timeline for repair. Hopefully we get some clarity soon."
[Related: 2022 Tundra owner's videos on turbo failure go viral]
Toyota did not provide the name of the turbo manufacturer by the time of publication. A member of 2022+ Toyota Tundra Owners on Facebook posted a picture of the turbo which bears the name IHI, a tier 1 turbo supplier in Shelbyville, Ill. The new 389-hp 3.5-liter i-Force and 437-hp hybrid i-Force Max, which is expected to roll out in the spring, are produced at Toyota Motor Manufacturing Alabama in Huntsville.
While Toyota did not answer several questions about the alleged wastegate failures by press time, a representative with the company did issue a statement after being provided with social media links.
"At this time, I'm not aware of a recall or wide-spread issue regarding the below forum posts. I will let you know if I'm able to confirm any details or if there's anything official we can provide."
While those social media posts have drawn plenty of criticism and concern, some have stepped up to defend the automaker.
"Does it really matter?" writes Flyalteon. "At some point down the road a turbo component will fail and need replacing. Can you imagine paying out of warranty costs to do this amount of work?"