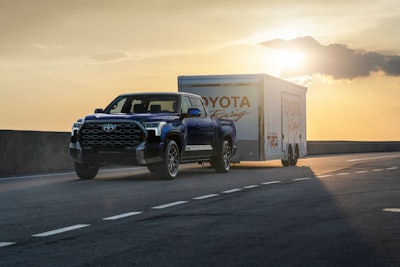 Toyota
A YouTuber who's also a longtime Toyota owner is documenting the turbo woes he's been up against with his 2022 Tundra.
As would be expected, Keith Allen at TriggerHappy mostly offers reviews on firearms where he's brought in nearly 14k subscribers and over 8 million views.
And now he's getting plenty of attention with his last two videos, both of which address turbo failure on his 2022 Toyota Tundra Limited. Check those out below.
As Keith makes clear, he's been a dedicated Toyota owner for several years. During a review he posted on his prior Tundra in 2020 he says that he's owned 12 Toyotas thus far and that he's not impartial when it comes to the brand. Fair enough.
But now, his allegiance has taken a hit with the bad news that he'll have to wait roughly a month before his Toyota dealer can replace a defective wastegate actuator.
Like other 2022 Tundra owners facing this issue, Keith could pursue the Lemon Law since his truck is so new and it will be out of commission for at least 30 days. However, Toyota fans like Keith just want their truck back.
How many 2022 Tundras have the turbo problem? Toyota still won't say anything more than what they told HWT last week and that is that they're "not aware of a recall or widespread issue" with their revamped truck.
To help pin down just how big of an issue this might be, a member of FaceBook group 2022+ Toyota Tundra Owners posted a turbo failure poll Tuesday based on truck VINs. By Wednesday, 11 Tundra owners reported having the problem while 24 said they did not. We're not math wizards here at HWT, but that translates to roughly 31 percent of respondents reporting a turbo problem. Let's hope it doesn't get any worse.