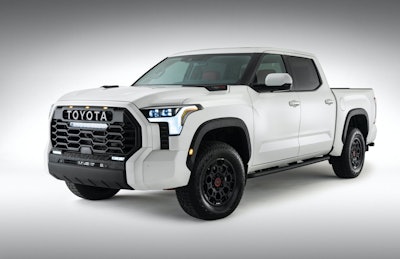 Toyota
Did the airborne 2021 Ram TRX land on Hard Working Trucks Top 5 videos for 2021?
It was close, but no. Video of the 2021 Ram TRX doing supercharged donuts, catching air and launching on the street did not move the needle as much as expected.
The world's most powerful production truck was narrowly edged out for 5th place by the 2022 GMC Sierra Denali 1500 with self-driving Super Cruise.
While the 702-hp TRX is currently the only airborne truck featured on Hard Working Trucks YouTube channel, it couldn't quite edge out GMC's first self-driving truck. To their credit, GMC takes on its longtime rival Ford with this video since Sierra's autonomous feature works in tow mode while Ford's Blue Cruise for their F-150 does not.
TRX still made it to the Top 5 albeit through a video that has absolutely no truck action. An instructional video showing how to use launch control in the TRX—which does not include an actual street launch—claimed second place.
It's a reminder that no matter the amount of effort exerted by both reporter and truck, the audience may lean towards another video that offers more of what they're looking for at that moment. Of course, algorithms, market saturation of TRX jump videos and God knows what else can all play a role when it comes to racking up views.
Given how close the TRX jump video was to landing the number 5 spot, it's been included as an honorable mention video below.
HWT Top 5 videos for 2021
5. 2022 GMC Sierra Super Cruise offers hands-free driving while towing
GMC is pretty proud of this SAE Level II autonomous system which—unlike Ford's Level II BlueCruise in F-150—still functions while towing. Time will tell if systems like these can help reduce jackknifing. It stands to reason that all-electric pickups with precise torque vectoring delivered to each wheel will prove superior in that regard. With a growing list of safety features being offered in trucks of all sizes, let's hope more insurance companies get on board and reduce their rates accordingly.
4. 2022 Ford Maverick hybrid at under $20K could be the next fleet favorite
Having grown up in the 80s in Southern California where compact pickups were popular—and yes, lifted way too high at times—it's nice to see the compact pickup making a comeback. Sort of. The 2022 Ford Maverick is actually about the same size as the 2011-MY and below Ranger. But, when adjusted for inflation, the entry-level, no frills hybrid Maverick XL is $8,000 less than the four-door 2011 Ranger SuperCab XLT. Plus fuel economy and emissions are much better too. Credit to Ford for adding a lot of useful and practical features like a multi-position tailgate that allows the truck to haul full sheets of plywood and drywall. The 2.5-liter hybrid version of the 2022 Maverick has sold out. A 2.0-liter EcoBoost non-hybrid version remains available.
3. Jeep Gladiator headed for an early grave?
Jeep's unique pickup which can be paired up with a six-speed manual transmission and a 3.0-liter EcoDiesel wasn't mentioned once during Stellantis' EV Day this past summer. While other future Jeep models were shown with fully electric powertrains in cool off-road segments (including a memorable autonomous scene), Gladiator wasn't invited to the ball. That was strange and had me wondering if the truck was heading for the chopping block. Jeep fans pushed back as you'll see in the comments, the best of which comes from viewer Bill Redding, the proud owner of a 2021 Gladiator Rubicon. Redding writes in part, "I can't think of ANY other mid-size truck (even the Chevy Colorado ZR2, though it's close) that is more off-road capable out of the box. And it's even great at higher speeds on the freeways. AND comfortable on long road trips." Redding makes other good points as well. Enjoyed the debate. Check it out.
2. Launch control in 2021 Ram 1500 TRX
There's no other factory-produced pickup out there on the streets or in the dirt that's as exciting and as impressive as the supercharged Ram TRX. As pickups transition to all-electric—which offer crazy, tire-shredding torque—the TRX will long enjoy its place in auto history as an absolutely dominant high-performance pickup, no matter the powertrain. Good luck finding an OEM that gives a thumb's up to jumping a heavier, all-electric pickup. That may change as lighter and more stable solid-state batteries emerge on stage, but for now, the TRX can fly on the streets and deliver big air with a soft landing (see honorable mention video below). The TRX launch control video surprised me because though it's shot in one short scene and doesn't feature any truck action, it still raked in enough views to take the number two spot.
1. 2022 Toyota Tundra getting mixed reactions
Can a grille make or break a truck? Readers may recall that Toyota slowly revealed its 2022 Tundra over several months in 2021. After posting its third press release on the highly-anticipated pickup, reactions weren't exactly all thumbs up. The large web-like grille and black-plastic look caught some serious flak but also had fans coming to its defense.
Honorable Mention - 2021 Ram 1500 TRX street launch, off-road, jump & donut