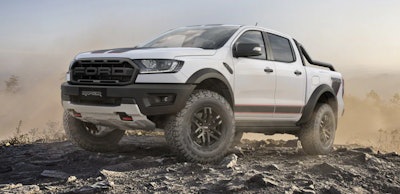 Ford Australia
Mention a diesel-powered Ford Ranger Raptor and you're likely to turn a few heads, at least here in the U.S.
For folks Downunder, it's business as usual.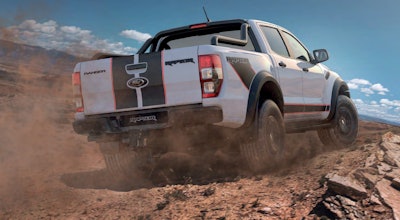 Not only do Aussies have access to a Ranger Raptor—they've got bragging rights to a 2.0-liter turbocharged four-cylinder diesel in the 2021 Ranger Raptor X. The 210 hp oil burner churns out roughly 369 lb.-ft. torque. The 2021 Ranger in the U.S. is rated at 270 hp and 310 lb.-ft.
All trucks get a 10-speed automatic. Aussies also have access to three diesel engines with the new 2021 Ranger: a turbocharged 3.0-liter, a bi-turbo 2.0-liter and a single-turbo 2.0-liter.
In addition to Ranger Raptor X, Aussies can opt for an XL, XLS, XLT, Sport and Wildtrak trim levels. They're available with all internal combustion engine types, as long as you choose diesel.
The love for diesel in Australia runs strong with one in six vehicle owners driving an oil burner. Given the long-standing cultural connection to diesel, the transition to zero-emissions may come a little tougher in Australia which, ironically enough, happens to be the world's biggest supplier of EV battery building lithium.