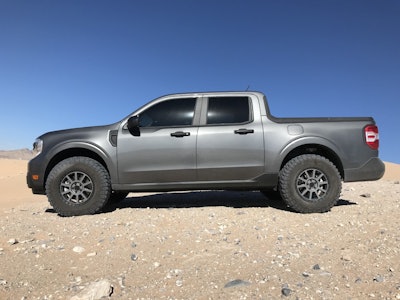 Woolworth Motorsports
The compact Ford Maverick pickup can sit a little taller thanks to a lift kit from Woolworth Motorsports.
Shortly after acquiring his first Maverick, Woolworth founder Robby Woolworth, longtime off-road racer and truck builder, went to work lifting the truck which serves as his parts runner. The result? Woolworth's 2022-2023 Maverick AWD 2-inch level lift which fits all-wheel-drive models.
The front of the truck uses two-inch strut spacers made from a ¼-inch laser cut steel plate, weather resistant hardware and stainless-steel flange nuts.
The rear lift features 1 ¼-inch steel coil spacers combined with 1-inch sub frame drop spacers and trailing arm spacers to keep factory geometry. The exhaust is supported by ½-inch hanger spacers. All parts are protected and coated with Steel-It polyurethane.
Recommended tire size is 245/65/17 or 245/60/18. Max tire sizes of 245/70/17, 255/75/17, 255/60/18 and 245/70/18 are possible with minor trimming of the pinch weld on the firewall and minor trimming of the plastic. Woolworth can do the trimming in his Las Vegas shop and plans on posting another how-to video soon on social media for DIY'ers who want to take on the job themselves.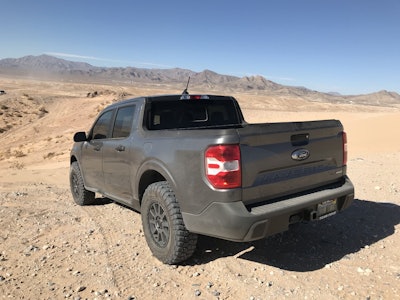 All kits are custom made to order. Delivery time is currently three to four weeks given the popularity of the truck and growing demand for Woolworth's lift kit.
"I knew it was going to be a good-selling vehicle," said Woolworth who also stays busy building lift kits for 2019-up Ford Ranger.
"I was always the pre-runner Ranger guy in Vegas for like 20 years," Woolworth added.
Woolworth's Maverick lift kit has not been designed for hybrid versions of the truck which have yet to roll out to dealers.
"My full lift kit won't work on the hybrid because it's a different rear suspension," Woolworth explained.
Woolworth gets emails regularly from customers interested in buying a lift kit for the hybrid Maverick. He said he tells them that he's waiting on his own hybrid like everyone else. While he'll go to work modifying that truck once he gets it, he's not so sure lift kits will prove as popular as they do for the Maverick equipped with the 2.0-liter EcoBoost.
"If they're looking to save gas mileage, they're not going to want to lift it and put bigger tires on it," Woolworth said. "I might do it but I don't think there's going to be a big enough interest."
Since Maverick comes from the factory with a 1-inch rake that drop the truck in the front, Woolworth also offers a front-only 1.5-inch level lift to "level your Maverick out and fit larger size tires," Woolworth said.
Recommended tire size is 245/65/17 and 245/60/18.
With some trimming, the truck will accept tire sizes 255/70/17, 265/65/17, 245/70/17 and 255/65/18.