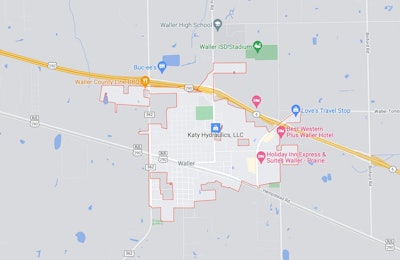 Google Maps
A 16-year-old pickup driver who ran over cyclists nearly two months ago in Texas while allegedly rolling coal is now facing several felonies.
The district attorney of Waller County announced that the juvenile involved in the September crash along Highway 290 near Houston has been charged with six felony charges of aggravated assault with a deadly weapon. The teen's name has not been released.
The charges follow nationwide criticism against Waller County law enforcement who until Monday had not arrested or charged the boy with any crimes after witnesses said he emitted dark exhaust from a pickup on several cyclists before running over six of them.
Four of the six cyclists struck by the Ford F-250 were taken to area hospitals, two by helicopter. The cyclists had been training for Ironman Texas.
After being questioned by law enforcement on scene, the boy was released to his parents whom The Washington Post described as "a prominent family that owns several businesses in the area."
Residents in the area have been complaining that the teen has received preferential treatment given his family ties.
On Monday, following a six-week long investigation, the Waller County District Attorney's Office announced charges for the teen.
"We very much appreciate the patience of the victims and their attorneys as we have attempted to reconstruct the events, and to assess and gather the evidence that was not obtained that day," a statement from the attorney's office reads in part.
"We wish [the injured cyclists] the speediest of recoveries on their long journey ahead, and remind everyone to share the roads, obey the traffic laws, and to treat each other with the respect that we all deserve."
The teen turned himself in to authorities on Monday, the same day charges were announced. He's being held at a juvenile detention center.