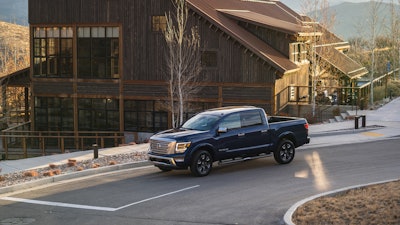 Nissan
Could it be true that the recently revamped Nissan Titan is heading to the chopping block?
Several stories online point to an Auto Forecast Solutions report that states that lackluster sales are moving Nissan to pull the plug on the half-ton truck which went through a recent redesign last year.
Nissan, however, did not confirm the report.
"Titan remains an important part of Nissan's truck lineup," a Nissan spokesperson said. "We redesigned the truck for the 2020 model year, and it's performing very well in customer satisfaction and quality. The Titan remains in Nissan's truck lineup for the 2022 model year and beyond."
So will another generation of Titan follow? Not likely, according to Autoline Network which cites the Auto Forecast Solutions report.
"[Nissan] poured a ton of resources into the Frontier," Autoline Daily host Sean McElroy said. "It will probably stay with one model to satisfy the pickup market."
Nissan's best attempt to market Titan as a strong competitor fell flat with the discontinuation of the 5.0-liter Cummins diesel V8 in the larger 5/8-ton Titan XD for model year 2020. Titan XD is still available with a 5.7-liter gas V8.
Nissan obviously needs to come out swinging hard to attract more full-size truck buyers. While diesel failed to score big, an all-electric Titan could give the 17-year-old nameplate a big boost.
Nissan is no stranger to all-electric with its long-standing Leaf and more recently its 2023 Ariya SUV which is expected to roll out next fall. Nissan is taking notes as its competitors debut all-electric half-tons, and after ten years of producing the Leaf, undoubtedly there's been lessons learned that could help craft a head-turning, zero-emissions Titan and Frontier.