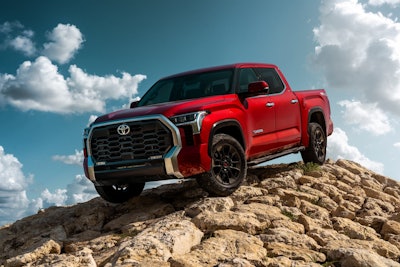 Toyota
Though it hasn't rolled out to dealers quite yet, the redesigned 2022 Toyota Tundra is enjoying "very strong" interest.
While Toyota doesn't accept pre-orders, dealers are accepting reservations. In Florida's most populated city, Jacksonville, Arlington Toyota is accepting non-refundable deposits to the tune of 10% of vehicle value.
Longo Toyota in El Monte, California, which is also taking Tundra reservations, told Cars Direct that customers can expect to wait up to 18 months for a hybrid TRD Pro. Toyota was not aware of the 1 1/2-year lead time.
"I can't comment on what the dealer source said or their specific situations, but I have not heard of any such delayed timeframe," Toyota spokesperson Josh Burns said.
Non-hybrid extended cab Tundras are expected to roll out first at Arlington Toyota in the next week or two. Higher trim levels, like the Platinum, are expected to follow in February or March.
Burns said availability can vary "by region due to transit time and other factors."
The first 2022 Tundras showing up at dealers will be equipped with Toyota's new i-FORCE 3.5-liter twin-turbo V6 which is rated at 389 horsepower and 479 lb.-ft. torque.
The hybrid 3.5-liter i-FORCE MAX, which Burns said is scheduled to arrive at showrooms in the spring, offers 437 horses and 583 lb.-ft. torque.
Both variants are bolted to a new 10-speed automatic and out-muscle the outgoing 5.7-liter V8 which cranks out 381 horses and 401 lb.-ft. torque.
Burns said overall demand for the 2022 Tundra has been "very strong. We've had great interest in the truck since we launched the upcoming vehicles page back in May."