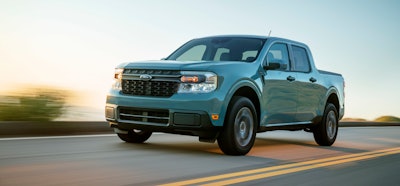 Ford
Fleets looking for a compact truck that will reduce their carbon footprint, drastically improve mpg and start under $20k can turn to the 2022 Ford Maverick.
The full hybrid Maverick, revealed today, is powered by a 2.5-liter Atkinson-cycle engine and a Ford-designed and produced electric motor that delivers a projected EPA-estimated rating of 40 mpg city, 37 mpg combined and up to 500 miles of range on a single tank of gas.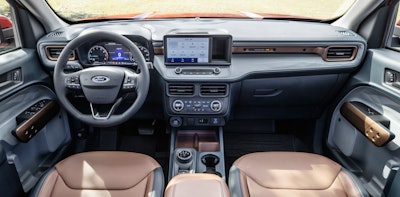 Ford believes the unibody truck, which is 11 inches shorter than the midsize 2019-up Ford Ranger, will make for a good fleet addition for pest control, auto part houses and other businesses looking for a smaller truck that will lower their total cost of ownership while improving their emissions profile.
"We're so excited to bring over 40 miles per gallon city," said Ford Maverick chief engineer Chris Mazur. "We're very bullish with respect to TCO (total cost of ownership) and where we're going to end up.
"We actively managed every aspect because that's a pretty broad category—total cost of ownership—there's many different factors," Mazur continued. "You have quality, you have fuel economy, you have go-to market elements, so we actively managed every part of that within an effort to really optimize it so we are really excited about where we are going to fit into the total cost of ownership."
In addition to a TCO advantage, Mazur is fired up to offer fleets a greener alternative to conventional internal combustion pickups. Not a bad idea considering that groups like the Carbon Disclosure Project continue to compile carbon scores for businesses, including fleets, around the globe. Getting a bad carbon grade can tarnish a company's image and negatively impact valuation at time when the pressure's on to go green.
"That's one of the advantages of a hybrid—the fuel economy, the tailpipe emissions," Mazur said. "That's why we're so excited to be offering the first standard truck with the hybrid technology especially at this price point so absolutely, that's one of the pride points we have on the vehicle right now."
Though Ford's smallest truck on the market can be optioned with a more stout, non-hybrid 2.0-liter EcoBoost engine for $1085 more, Ford's commercial truck brand manager Nathan Oscarson said fleets looking to improve their green profile and reduce their TCO will want to opt for the hybrid version.
"If there are businesses out there trying to reduce their carbon footprint, the hybrid's definitely the way to go," Oscarson said. "Also, if you think about where you'll have a lot of idling potentially, what's great about a hybrid is that you can sit there and idle and run ancillary power equipment without having emissions with the engine running. It'll idle in the electric mode of the hybrid."
While Maverick is being termed a compact truck, its size is actually roughly on par with model year 2011 and below Ranger which could appeal to fleets that miss the previous generation Ranger that ended for model year 2011 in the U.S. and resurfaced as a larger truck for model year 2019. The previous generation Ranger had grown especially popular with auto part stores, Oscarson said.
"Back in the day, those companies use to buy a ton of [model year 2011 and below] Rangers and I think they were sad to see that go," he said. "So I think they'll be excited to see this coming where it's got that same kind of rough dimensions as the old Ranger."
Capabilities
The first and only pickup that comes standard with a hybrid offers up to 2,000 lbs. of towing and 1,500 lbs. of max payload. The optional 2.0-liter EcoBoost increases towing to 4,000 lbs., but drops the hybrid option. Max payload remains unchanged.
The 2.5-liter Atkinson-cycle four-cylinder hybrid powertrain delivers 191 horsepower when combined with the electric motor and 155 lb.-ft. of torque mated to a continuously variable transmission driving the front wheels.
All-wheel drive is available with the 2.0-liter EcoBoost which delivers 250 horsepower and 277 lb.-ft. of torqueƗ with an 8-speed automatic transmission.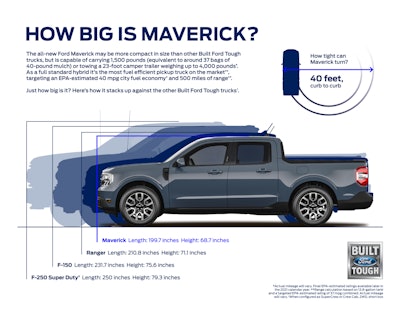 At a time of nuclear verdicts when fleets to need to play up safety as much as possible, Ford is equipping Maverick with its Co-Pilot360 technology which includes standard pre-collision assist with automatic emergency braking and automatic high beam headlamps.
Available options include adaptive cruise control with stop & go, blind spot information system with cross-traffic alert, lane centering and evasive steering assist. Five standard drive modes include Normal, Eco, Sport, Slippery and Tow/Haul to enhance performance and confidence over various driving conditions.
Maverick comes standard with an 8-inch center touch screen which features Apple CarPlay and Android Auto. Maverick has standard FordPass Connect with embedded modem and WiFi for up to 10 devices, while standard FordPass makes it easy to find the truck, check fuel level, lock and unlock the doors, and start or turn off the vehicle all from your phone.
Seating is available for up to five adults. Cup holders abound. The rear seat flips up to offer storage for "a fully inflated volleyball, laptop bags, roller blades, tools and other gear."
Versatile bed
Ford engineers have revisited the important, back-end business of a pickup with Maverick's FLEXBED which provides plenty of opportunities for DIY organization and storage solutions for cargo securement.
Building a custom cargo carrier comes easier thanks to the overall design of the bed which is slotted to accept 2x4s or 2x6s to help frame out ideas for cargo management.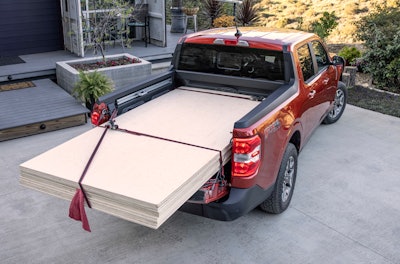 To help make cargo management easier and keep that drill at bay, Maverick's 4.5-ft. long bed offers two tie-downs, four D-rings and built-in threaded holes in the sides to securely bolt down cargo solutions.
"The whole bed is a DIY fan's paradise," said Keith Daugherty, an engineering specialist who helped develop the truck box for Maverick. "You can buy the bolt-in Ford cargo management system and we're happy to sell it to you, but if you're a bit more creative, you can also just go to the hardware store and get some C-channel and bolt it to the bed to make your own solutions."
Because fleets can't get enough 12- or 110-volt power sources, Ford went to work to offer both in Maverick's bed.
"People have forever been hacking into their wiring harness to run things like lighting, air pumps and other useful accessories," said Ford produce development leader and electrical engineer Gaby Grajales. "This is a better solution. We're enabling customer needs while protecting the taillamp wiring and creating a fused circuit to avoid compromising the overall electrical system. With this, you have the option to select the factory-available box lighting or install your own home-built lighting setup, or even invent a whole new use for the 12-volt access points."
Beyond DIY electrical, there are two available 110-volt 400-watt outlets – one in the bed and one in the cabin – that can power phones, laptops, small TVs, a cordless tool battery charger, or a small, corded tool like a jigsaw. There's also a storage cubby built into the side of the bed on XLT and two available on Lariat trucks which could prove ideal for storing a ball hitch or air pump.
The 4-ft. wide bed can carry 1,500 pounds of payload, the equivalent of roughly 37 bags of 40-pound mulch, and has a six-foot floor with the tailgate down.
Maverick can carry long and wide stuff too, thanks to its multi-position tailgate which allows support cables to be repositioned to tilt up the tailgate and support up to 18 sheets of 4x8-foot ¾-inch plywood, which thanks to that tailgate incline, will be angled down into the bed.
Another Maverick compact perk? Bed access is easier thanks to the relatively low height of the bed walls. Protective bed rail caps extend from the bed and go vertical ending at the top of the back window to fend off dings.
Fleet appeal starting under $20k
With Nissan exiting the under $20k pickup market with its redesigned 2021 Frontier, Ford is now the only OEM offering a truck that costs less than the vast majority of crossovers that have flooded the market. Plus, with the exception of half-crazed, social media click-baiters, who wants to cram 37 bags of mulch in the back of a crossover?
Equipped with the standard hybrid powertrain, the Maverick starts at $19,995. We're still shaking our heads at that. It's not only the most affordable pickup on the market, it also appears to be the most affordable hybrid. (Price on the 2.0-liter EcoBoost variant has not been released yet).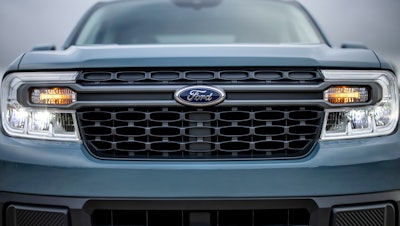 "Typically, if you look at what's been done in the past, you have to option into the hybrid and typically the hybrid costs extra money because you've got two powertrains in there, not just one," Oscarson explained. "So I love how we've made the hybrid the standard and the 2.0 gas engine optional. For fleets especially where efficiency is going to be key, I think we'll see a lot of excitement with the hybrid."
Maverick is offered at three trim levels – XL, XLT and Lariat. An FX4 package available for all-wheel-drive XLT and Lariat trucks adds more off-road capability with rugged all-terrain tires and suspension tuning, additional underbody protection, and off-road-focused drive modes like mud/rut and sand, as well as the addition of hill descent control.
Available for the first model year only is the Maverick First Edition package. It is built off the Lariat trim level and includes unique graphics on the hood and lower doors, a high-gloss blackpainted roof, soft tonneau cover, body-color door handles, high-gloss black skull caps, and gloss black-painted and machined 18-inch wheels for hybrid or unique 17-inch aluminum wheels for the gas model. It comes in Carbonized Gray, Area 51 and Rapid Red, unique to First Edition.
Assembled in Mexico, the 2022 Ford Maverick is scheduled to roll out to dealers this fall. The build and price website is live at Ford.com and reservations or orders can be placed today. Ford's waiting on EPA certification before releasing final numbers on hybrid emissions reductions and fuel economy.