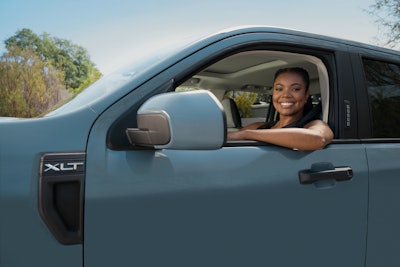 Ford
Does anyone remember compact pickups?
Ford sure does. And they're at it again with their Maverick compact pickup. The reveal is set for June 8 at 6 a.m. EST when, according to Ford's brief press release, "actress Gabrielle Union will show-off the all-new truck on her own Instagram and TikTok channels, on Ford's social channels as well as on Hulu. The Maverick will be Ford's first vehicle to debut on its new U.S. TikTok channel."
Beyond that, there are two brief videos, one of which shows Union standing outside of a garage with remote in hand. The camera cuts to the Maverick inside being slowly revealed as the door inches up. Just as the back of the truck emerges into view, the camera cuts back to Union who says, "The truck you didn't expect to see coming, is coming."
So what does that mean exactly? After all, plenty of publications—ours included—have been expecting Ford to offer a compact. Spy cameras have revealed plenty on the front. So maybe 'the unexpected' is referring to Maverick's powertrain? Possibly.
It's intriguing because you might recall that HWT wrote a story earlier this year about how a Maverick prototype's beefy chassis rails seemed to suggest a battery cradle. (Thanks again to mavericktruckclub.com for posting those images and allowing HWT to run one shown above.)
Ford's made it clear that they're big on electrification. And talk has resulted in action with the all-electric Mustang, the all-electric F-150 and the hybrid F-150.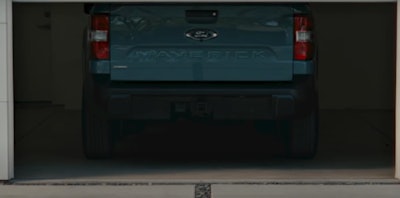 What's even more thought-provoking, is Ford's partnership with Volkswagen. Last June, Ford and VW finalized a deal on EVs, autonomous tech and commercial vehicles.
HWT has reported before about VW's partnership with solid-state battery developer, QuantumScape. Compared to lithium-ion batteries, solid-state offers roughly twice the energy density in a smaller and lighter package which translates to batter range, it can be charged faster and presents few if any flammability concerns. VW told HWT that they expect to have solid-state available in a vehicle by the mid-2020s.
So does that mean fleets can expect a Maverick, Ranger, F-150 or even Transit eventually equipped with a solid-state battery? It makes sense and if it doesn't come as a result through the VW partnership, then it may spring from Ford itself.
Last month, Ford announced a $130 million investment in Solid Power, a solid-state battery producer in Colorado.
"Solid-state battery technology is important to the future of electric vehicles, and that's why we're investing in it directly as well as accelerating Ford's in-house R&D on next-generation battery technology," Hau Thai-Tang, Ford's chief product platform and operations officer, said in a company statement.
"Leveraging the speed of a startup and the expertise of some of the most seasoned battery experts in the world at Ford, we're exploring different ways to power tomorrow's fun-to-drive all-electric vehicles, using proven development and manufacturing processes," Thai-Tang continued.
So stay tuned on solid-state developments and in the meantime we'll find out in only four days if Ford's big commitment to electrification will include Maverick.