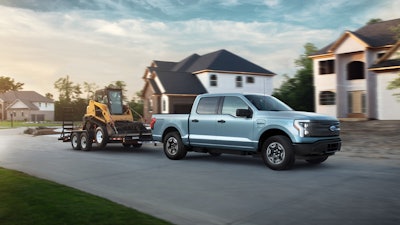 Ford
Fleets can jump into the world of electric trucks for under $40,000 thanks to Ford's F-150 Lightning but it will mean sacrificing some towing.
When Ford revealed their first all-electric F-150 last week, max towing was said to be 10,000 lbs. when equipped with an extended range 300-mile battery and an optional Max Trailer Tow package. The 300-mile model starts at $49,974 MSRP.
This week, Ford announced that its 230-mile variant, which stickers at $39,974, offers 5,000 pounds max towing or half of the 300-mile model. Optioned with the Max Trailer Tow package, towing jumps to 7,700 pounds.
Ford's conventional, internal combustion (IC) 2021 F-150 offers a broad range of max towing options from 5,000 to 14,000 pounds depending on engine, axle and cab configuration.
While IC has got the electric F-150 beat in top-end towing, it can't come close to competing with total cost of ownership.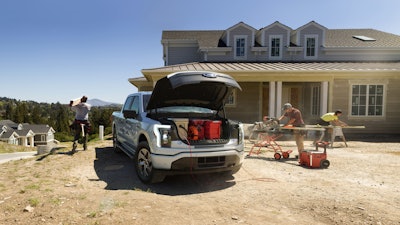 Ford announced Monday that its F-150 Lightning Pro, a work-centric lineup geared towards fleets, offers a 40% reduction in maintenance costs versus IC over eight years or 100,000 miles. There's "potential for further operational cost savings through lower fuel costs," Ford reports.
If rising prices at the pump are any indication, electric vehicles could attract more fleets. According to AAA, the national average for gas rose to $3.04 on Sunday, a 51% jump from one year ago. The national average price per kilowatt hour for commercial electricity was 11.93 cents in February, a 15% increase from February 2020.
A 40% drop in maintenance costs for the F-150 Lightning also looks promising. Those big savings in maintenance are on par with Ford's electric van, 2022 E-Transit, which will roll out later this year.
"As more companies make the commitment to go carbon neutral, they are going to expect electric products that can integrate into their operations easily," said Jim Farley, president and CEO, Ford Motor Company. "Ford is so uniquely positioned to answer this call because we have a zero-emissions pick up and van, many of our customers want both vehicles in their fleet."
Power versus range and charging
The 230-mile F-150 Lightning Pro is targeted to generate 426 horsepower and 775 lb.-ft. torque while the 300-mile version is designed to reach 563 horsepower. Torque is the same for both trucks at 775 lb.-ft.
Both trucks come with overnight chargers. The 230-mile Lightning gets a complimentary 32-amp, 120/240-volt Ford Mobile Charger, while the 300-mile version includes an 80-amp, 240-volt "Ford Charge Station Pro which, when combined with the included onboard dual chargers, enables affordable Level 2 overnight charging using battery-friendly AC power – negating the need for expensive DC power installation."
Overnight charging is preferred according to the University of Michigan's battery lab technical director Greg Less who told HWT's sister publication Commercial Carrier Journal that fast-charging "puts a strain on current generation batteries" and that "you can do it once in a while without causing any serious damage" but "you wouldn't want to do it all of the time."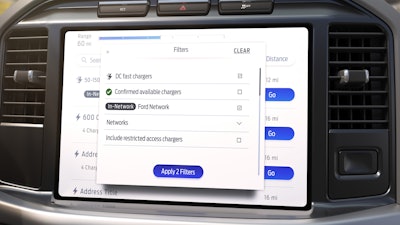 F-150 Lightning uses the only dual onboard charging system in the industry to cut the 15% to 100% charge time to around eight hours for the targeted EPA-estimated 300-mile-range battery that Ford says "can dramatically reduce charging infrastructure investments and battery wear."
Rapid charging is available through the Ford Charging Network's 150-kilowatt Level 3 DC fast charging locations that can deliver a 15% to 80% charge in less than 45 minutes.
When it comes to keeping an eye on range, Lightning's Intelligent Range system calculates battery power needed to complete a trip, factoring in terrain, weather, cargo and trailer load and distance to destination. That data is shared with the cloud-based Ford Power My Trip feature and SYNC 4, so users can plan their routes and monitor charge use while driving.
If a range issue is detected, the system maps the nearest available charging station from America's largest public charging network of more than 63,000 plugs including DC fast charging locations.
Ford isn't too worried about range anxiety for fleets.
"More than 145 million miles of telematics data show that for the average F-150 commercial customer in the U.S., 95% of their daily travel is less than 174 miles," said Ted Cannis, general manager, Ford North America commercial business. "Commercial customers track their business expenses closely – they buy what they need and not a penny more."
A good fit for the fleet?
To help gauge potential purchase and operating cost savings, Ford commercial customers have exclusive access to a new Ford digital fleet planning tool that calculates a variety of factors including purchase and lease costs, federal and regional tax incentives, and regional fuel and energy costs.
"The digital fleet planning tool will help demonstrate how Ford can provide many customers improved total cost of ownership for a full-size commercial electric truck, from favorable purchase costs, lower fuel and maintenance costs plus strong residual values we expect will mirror those of the commercial F-Series trucks," said Cannis. "Best of all, it comes wrapped in a trusted Built Ford Tough-tested truck that delivers what our customers love about F-Series today."
In addition to total cost of ownership savings, Ford is betting that fleets will make good use of Lightning's Mega Power Frunk.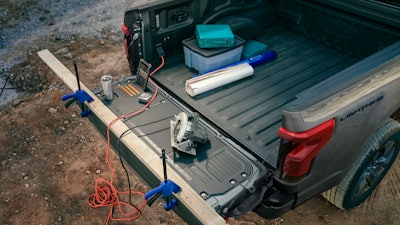 "When we first showed this design to our commercial truck customers, they were floored," said Cannis. "They appreciated the ability to quickly lock their tools and gear up front, while saving their cargo bed for supplies and other equipment to get the job done. So much more easy access space means commercial customers can rethink the way they work, like moving toolboxes to the frunk for unobstructed bed space."
Lightning's portable power features should also prove helpful to fleets. Pro Power Onboard is a built-in AC power source that comes standard with 2.4 kilowatts of capability through four outlets in the Mega Power Frunk, two more in the cabin and two in the bed.
An available 9.6-kilowatt Pro Power Onboard – with enough power to rip up to 30 miles of half-inch plywood on a single charge on the extended-range battery – adds two more 120V and a 240-volt AC outlet in the bed.
Both versions automatically adjust the truck's battery range estimates as power is used. Fleet managers can set parameters for power usage. Should Pro Power Onboard deplete the battery charge level to the point the truck cannot reach a charge location, it will shut down automatically or based on a pre-determined customer setting to prevent the truck from becoming stranded.
Registrations open today at Fleet.Ford.com and when it arrives next year, Lightning will be supported by an established network of 644 electric vehicle-certified Ford Commercial Vehicle Centers across the U.S. offering sales, service, financing and charging solutions, as well as 2,300 EV-certified Ford dealers.