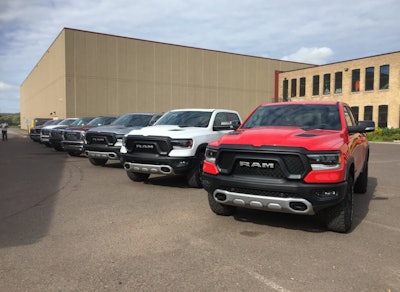 Tom Quimby
According to iSeeCars' newest study, used vehicle prices in April increased an unparalleled 16.8 percent, or $3,926, over last year in the wake of the microchip shortage.
Pickups from Ram, GM and Toyota had some of the highest price jumps making them "the worst vehicles to buy and the best vehicles to sell."
[Related: Billionaire buys used truck because new not available]
Some vehicles had higher price increases than average--which makes them the worst vehicles to buy while presenting lucrative trade-in opportunities. Other cars defied the trend by either decreasing in price or by only slightly increasing, proving that not all used car shoppers have to significantly overpay for a vehicle.
Here are the cars and pickups with the greatest price increases: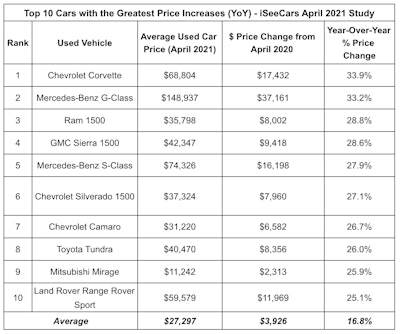 The study also includes:
Best used cars to buy right now: vehicles with the smallest price differences

Average price increases by bodystyle
Key findings include:
Used car prices have increased 16.8%, or $3,926, over the past 12 months, compared to most years when they remain constant

Pickup trucks and sports cars had the highest price increases, which makes them the worst vehicles to buy and the best vehicles to sell

Best used vehicles to buy right now only saw minor price bumps including some small SUVs, hatchbacks, and minivans

Tesla's Model S is the only used vehicle that has decreased in price