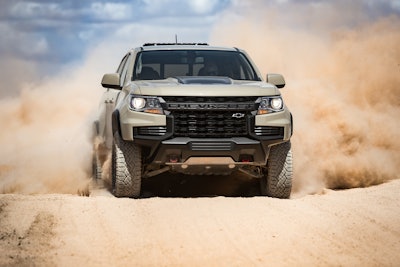 Chevrolet
Production of the Chevy Colorado and GMC Canyon will be put on ice starting Monday because of an ongoing chip shortage brought on by COVID-19.
The rush to get workers to their homes during the height of the pandemic last year led to a big demand for laptops which strained computer chip supplies shared with the auto industry.
[Related: Chevy Colorado that's one of a kind]
GM's March 29 closure of its factory in Wentzville, Mo. where it builds its midsize trucks will last for two weeks.
Last week, GM announced that certain 2021 Chevy Silverado and GMC Sierra trucks spec'd with the 5.3-liter would not be available with Active Fuel Management/Dynamic Fuel Management because of the chip shortage. The loss in fuel mileage amounts to roughly one mpg combined.